The vote was set for 3:30 p.m. at the Memphis City Council meeting on March 21, 2017. That was public knowledge. 
What wasn't known is that minutes before the meeting started, labor and the city were still at the bargaining table. In the end, a measure was approved to overhaul the city's impasse procedures—the rules that govern how the city and its municipal unions settle stalled contract talks. 
And the Machinists cheered.
"Labor packed the room at the city council meeting," said IAM W2 Assistant Directing Business Representative Melone Irvin. "They had to let us all out before they continued on with their business because there were so many of us."
"Behind the scenes, the IAM, along with the other municipal unions, have been working with the city of Memphis to come up with a compromise," said IAM Southern Territory General Vice President Mark Blondin. "The first version of the ordinance offered would have literally taken away the ability for labor to negotiate. That was not acceptable by any means. That's when all of our union brothers and sisters, no matter the affiliation, came together to fight. And in the end, solidarity worked."
Originally it was Councilman Kemp Conrad, and later Edmund Ford, Jr., who proposed making changes. Although the current system has been working for the 40 years it's been in place, Conrad wanted to streamline the process and get rid of individual impasse committees. Labor knew this would have had tragic consequences for the more than 4,200 union brothers and sisters who work for the city.
IAM W2 Directing Business Representative Kevin Godwin understood fully what was at stake in this fight.
"It would have taken away our right to bargain for anything but wages and incentive pay," said Godwin. "There would have been no negotiating on items such as vacation, contract language, work rules – nothing.
"Every worker, union or not, should have a voice. But workers with a union contract are guaranteed a voice. That's why you sign a Union card. This is your livelihood, everything needs to be fairly negotiated."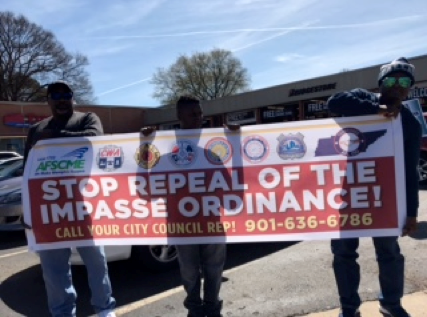 What did pass in the final vote is a cap on the number of impasse committees allowed, and changed how those committees would be chosen. Now, unions will pick one council member, the administration will select one, and those two people together would choose a third person to make up the panel who recommend either the city's, or the union's, final offer to the full council. In other words, labor will continue to have a voice when there's a dispute. 
Memphis IAM Local 3 President Andre Gibson can't explain how excited he was when the vote came down.
"What they were trying to do was take our voice away but we came together and stopped them," said Gibson. "We hung in there, together, and we did it!"
But the reason there's cause for celebration is all thanks to the union brothers and sisters in the South. Everyone worked together to make sure Memphis city workers were the winners. Immediately after the anti-worker proposal became known, labor went to work and billboards were splashed across the city showing signs of solidarity. 
"It was fantastic, an excellent turnout," said Irvin. "All unions were represented. But that's the brotherhood. When we made the call, right away they asked how many do we get to bring and when do you need us?"
"This is what we do in the Southern Territory. We made the call, and they came," said Blondin. "IAM Local W443 from Laurel, Mississippi drove six hours to be here. Local 1296 from Clarksville, Tennessee was there. Machinists from Locals 61 and 3 in Memphis brought as many people as they could find, and that's just to name a few. It was as proud moment to be union and to be part of the IAM as we came together and took a stand."
The diligence of labor paid off. Standing shoulder to shoulder – police officers and firemen, sanitation workers and machinists – came together and their collective voice was heard.
The post Machinists and City of Memphis No Longer at Impasse appeared first on IAMAW.