This article originally appeared in the Winter 2017-2018 IAM Journal.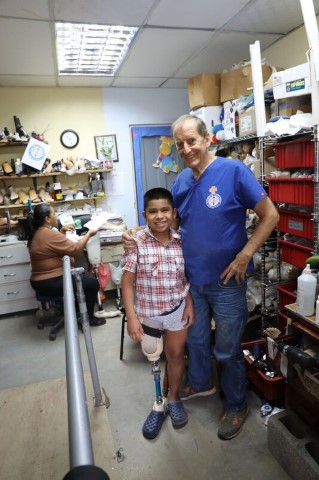 Six months a year in Panama helping in Panama helping the poor, one IAM retirement
His life-after-work is unique, to say the least. Following a 33-year IAM career as an aircraft mechanic for US Airways, Vietnam veteran Tom McCormack did not let anything slo0w him down.
While still at the airline, McCormack began two-week trips to Panama to assist local farmers in beekeeping, a side business he and his wife, Linda, run. During one of his visits, he noticed a one-legged man struggling through town using two forked sticks as crutches. He also saw a woman holding her arm across her chest to cover where one of her breasts had been removed due to cancer.
"I said, 'I can collect stuff and just take it down.'" Said McCormack. "That started our foundation and it has just grown since then. I never planned for this."
Since 2000, he and his fellow Pittsburgh retirees have collected used and otherwise unneeded medical supplies and shipped them down to Panama. Today, several hundred, maybe even a thousand, walkers, wheelchairs, hospital beds, portable commodes, canes and other miscellaneous supplies are ready to go.
"Everything you see here would be destined for landfills," said McCormack.
"It's called the Thomas L. and Linda J. McCormack Foundation, but he's not alone in this effort.
"Don't think that it's only my project," he said. "There are lots and lots of people involved in this. We almost always get at least 50 volunteers to come here to load this container."
McCormack gestures to the dozens of people working on what looks like a bucket brigade to organize the items before loading. Bill Hollowood, a fellow retired IAM US Airways mechanic, has been a friend of McCormack and a part of the effort for several years.
"Building up to today, my part was to get volunteers out. We had a very nice showing," said Hollowood. "They come out for a good reason. It's a great cause and they enjoy doing it. Today we had about 15 of our members out here."
Throughout Hollowood's career he's been involved with community service, too. Prior to his retirement in 2014, he was a US Airways community service coordinator for a number of years. He now serves as the president of IAM Local 1776's retirees club, one of the largest in the union.
Today was the 19th container loaded over 17 years, all destined for Panama.
"If somebody had told me a few years ago that I'd be shipping 19 or 20 40-foot containers of medical supplies down here, I would have thought it was crazy," said McCormack. "You can't find that much stuff. And now we get loaded every time. We have to close the doors with the forklift to squeeze it closed."
Three weeks later and nearly 4,000 miles south, the container arrived in the town of David, Panama, home to McCormack's makeshift clinic.
The hospital beds and most of the other supplies were immediately distributed. Large items must go quickly because the container has to be returned and there's no space to store them. Some have been taken to hospitals, rehab facilities or nursing homes. Breast prostheses and wigs have been taken to a local hair salon where female workers will help fit them. Poor residents from other parts of Panama take buses for hours to receive anything to help them.
Prosthetic limbs and braces have been stacked in a room, his office/clinic, no larger than a monthly storage locker. Here is where Tom McCormack is most comfortable. This is where he fits, customizes and builds prosthetic limbs and braces from the previously discarded devices.
"I don't do any more with bees in Panama. I strictly do prosthetic legs, arms and hands," said McCormack. "I'm in the shop every day, six months a year. And everything is provided free."
He has no medical training but has gone to prostheses shops and shadowed people to learn. But he's not licensed.
"A prosthesis is a mechanical device and it's not all that different than working on an engine," said McCormack.
The foundation's daily management is handled by McCormack and his associate, Ruby, who he pays out of his own pocket, along with his helper Giovanni. When McCormack is in the United States, Ruby takes care of the office. Any donations they receive go directly to buying material needed to make prostheses and they never solicit for funds. Local volunteers show up from time to time as well. Recipients of devices pay nothing.
Seeing McCormack in action, as the seemingly endless flow of people arrive and wait patiently, is uplifting and sad at the same time. He focuses on the person he is with for however long it takes. If he can't get to everyone that day, they'll have to return the next day.
From a cluttered wall full of prosthetic sockets, he selects one that could work and tries the fit on a tall physically-fit construction worker, Edgar, who lost his leg in a motorcycle crash. He wants to go back to work and ditch his crutches. McCormack begins the process of shaping the socket, followed by installing the knee. He then carefully measures the length between it and the foot. An aluminum tibia is then cut with a hacksaw and connected.
Edgar firmly pushes the socket onto his thigh and it clicks into position. He stands and takes a couple of cautious steps. McCormack points to a spot in front of Edgar and barks out a few words in Spanish. He takes a few more steps. The leg is removed and McCormack makes some adjustments.
Edgar smiles and thanks McCormack before walking out of the office, without crutches. Jose, a tall middle-aged man, makes his way in and sits. His leg was amputated very near the hip due to bone cancer.
"This is very rare, what I'm doing here," said McCormack. "Most amputations result with people having some muscle left but they took out almost all the muscle behind. It makes it harder to fit him. This is where you have to use your head."
McCormack selects another socket from the shelf and uses a tape measure and sharpie to mark it. He pulls out a jigsaw and begins cutting. A propane torch softens the plastic so he can reshape it. By the time Jose leaves, he has a new leg but will need time to learn to walk without crutches.
"This is the 540th new prosthetic leg that we put on here," said McCormack. "When someone comes and we just put on a foot, we don't count that."
Seven-year-old Gabriela comes into the room. She was born with an exposed hernia. Surgery detected a cancerous tumor that required more surgeries and over a year of chemotherapy. She has both her legs but the disease affected her spine and required the removal of one of her kidneys. She has spent all her life either in a wheelchair or leg braces.
Despite her tragic background, her infectiously bright personality immediately fills the room. McCormack and Ruby joke with her as he examines one of her specialized crutches and shows her that it has a flashlight. She giggles.
"She's the happiest little girl I have ever had in the office," said McCormack.
The following day, a timid 12-year-old boy named Napoleon is in the office. His leg was taken after he suffered several poisonous snakebites. The incident brought with it a number of physical and psychological challenges.
"You see a lot of snake bite amputations here, that and motorcycle accidents," said McCormack. "The doctors used to tell people after an amputation of a leg, especially the old ones, 'your future from now on is to go home and sit in a wheelchair and wait to die.' They never gave them any hope, so we try."
Cargo container No. 20 has now closed its doors and begun its journey. McCormack will soon head back to Panama and begin the process all over again.
The post Lending a Hand appeared first on IAMAW.