The National Association of Railroad Passengers (NARP) released a report this week detailing the complex nature of Amtrak's national network while highlighting the necessity of long-distance trains. The report includes a section on jobs (see screenshot below) as well as a table (see appendix) outlining the various stations across the country that would close if the federal government eliminated long-distance service.
Click HERE to read the full report.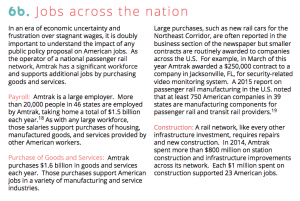 The post Rail Passengers Group Publishes Report Supporting Amtrak appeared first on IAMAW.
Please follow and like us: