Advancing Senate Health Care Legislation Will Harm Older Americans
The following statement was issued by Richard Fiesta, Executive Director of the Alliance for Retired Americans, in response to the Motion to Proceed on the Senate Affordable Care Act Repeal.
"The Senate's vote today on the Motion to Proceed is an outrage.
"Neither the Senators nor the American public have any idea what measures the Senate will be voting on. Every proposal they have put forward so far is cruel, leaving at least 22 million people and as many as 32 million without insurance.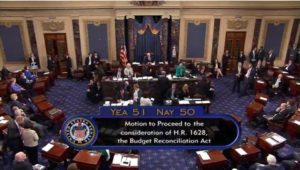 "Health care affects every American and represents 1/6 of our economy. Health reform should be undertaken thoughtfully with the goal of lowering costs and improving quality and access, not cobbled together by a handful of people behind closed doors. This cynical process will have devastating consequences for Americans of all ages, particularly older Americans.
"The 4.4 million members of the Alliance are mobilized and unified in our opposition to whatever horror lies ahead. We urge our elected officials to vote against whatever comes next."
###
Contact: David Blank – 202/637-5275 or dblank@retiredamericans.org
The post Motion to Proceed — Off a Cliff
appeared first on Retired Americans
.
This article was first posted on Alliance for Retired Americans website. Click here to visit that page.
The post Motion to Proceed — Off a Cliff appeared first on IAMAW.