IAM International President Bob Martinez and IAM Midwest Territory General Vice President Philip J. Gruber recently took part in a three city, three-day tour of the territory, visiting members of IAM Local 873 at John Deere and IAM Local 1947 at Mercury Marine.
The tour started at Local 873 in Horicon, WI, where Martinez and Gruber had lunch with district and local leadership, the executive board and stewards. From there they headed to the shop floor where they walked the floor meeting and talking with members and getting a first-hand look at the premium tractors and Gators that only IAM members can make.
See photos from the John Deere tour
President Martinez posted about his experience on his personal Twitter account.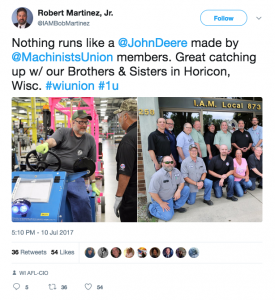 John Deere is home to more than 960 active IAM members.
The following day, the International President and General Vice President visited Local 1947 members who make marine engines and propellers at the Mercury Marine headquarters in Fon du Lac, WI. Martinez and Gruber toured the facility, walking and talking with members and stewards. They later joined members in the lunch room for a mid-day meal and an open dialogue about some of the members' concerns and how the union's new leadership can begin to move the membership forward.
See photos from the Mercury Marine tour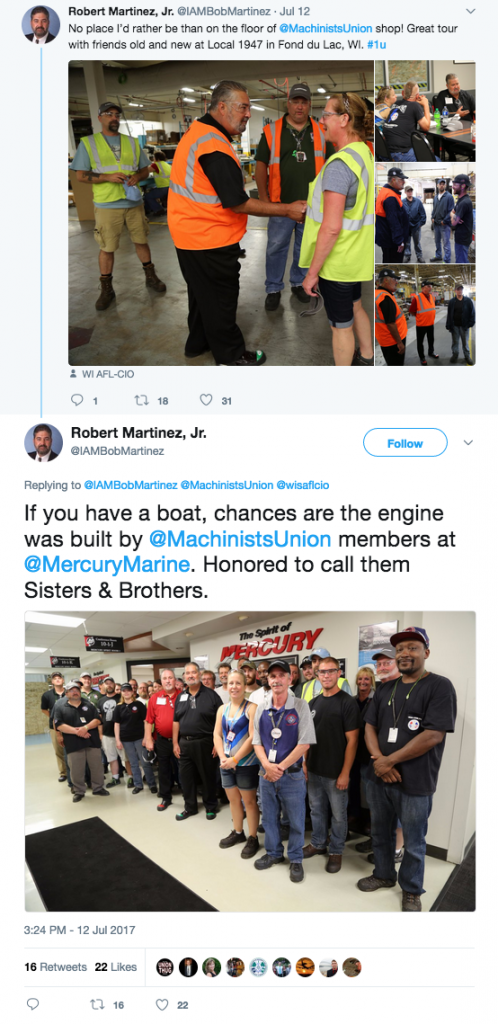 Mercury Marine is home to more than 1,400 IAM members.
"IAM members are among the most highly-skilled, talented workers in the North American workforce. We are the best in our industries – bar none," said Gruber. "The craftsmanship, passion and dedication that our members at John Deere and Mercury Marine put into their work gives a new meaning to 'American
made.' Know that when you are buying these products, they're not just American made – they're union made. There's a lot of hard work, pride and sweat behind each of those labels.
"Thank you to the leadership and members of IAM Locals 873 and 1947 and District 10 for your hospitality."
"It was an honor to join International President Martinez and General Vice President Gruber touring John Deere and Mercury Marine and speaking with our members face-to-face," said IAM District 10 Directing Business Representative Alex Hoekstra. "The skill and pride our members contribute to the products they build make them the very best in their respective industries. Hard work, solidarity and great leadership add up to a bright future for our members."
The third leg of Martinez and Gruber's tour was with IAM Local 837A and 837B members at Boeing in Hazelwood, MO. Read and view photos from the Boeing, St. Louis tour here. Read Martinez, Gruber Visit IAM Members at Boeing in St. Louis.
The post Martinez, Gruber Visit Wisconsin IAM Members at John Deere and Mercury Marine appeared first on IAMAW.