In a major victory for older Americans concerned about health care costs, the Senate failed
 to pass a partial repeal of the Affordable Care Act (ACA) last Friday. Republican Senators Susan Collins (ME), Lisa Murkowski (AK), and John McCain (AZ) joined all Democratic senators in voting against the legislation, defeating the bill 51-49
.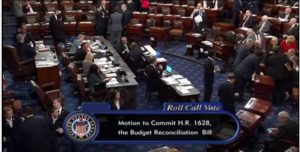 The partial repeal of the ACA, dubbed the "skinny repeal," was a last resort for Senate Republicans, who narrowly approved the motion to begin debate on health care earlier last week. The bill would have destabilized the insurance market by repealing the individual and employer mandate for health insurance. Expanded waivers would have allowed states not to cover some essential health benefits currently covered by the ACA. The Congressional Budget Office found that the skinny repeal would have left 16 million more uninsured and caused premiums to increase 20%.
"We applaud all those who voted against such a harmful and deadly initiative," said Robert Roach, Jr., President of the Alliance. "We are now calling on all elected leaders to come together and commit to a thoughtful, bipartisan deliberation on a bill that will improve health care and make it more affordable for all Americans."
Earlier in the week the Senate rejected a version of the health care bill, 43-57
 (60 votes needed for passage) that included the controversial "Cruz Amendment" from Sen. Ted Cruz (R-TX). This would have allowed those with pre-existing conditions to be separated into plans with much higher premiums. On Wednesday, the Senate rejected another version of the bill 45-55
. That version would have repealed the ACA with no replacement but with a two-year delay, giving GOP senators more time to create a replacement system.
Many Republican senators said they were opposed to the skinny repeal, but wanted to use it as a way to get to negotiations with House Republicans on a final health care bill.
"Thank you very much to everyone who called their senators or governors, signed a petition, attended a rally or protest, wrote a letter to the editor or spoke out against attempts to unravel our health care system," President Roach continued. "You helped make this victory possible. But we must remain vigilant and protect our health care."
The post Americans Keep their Health Care as Repeal Bill Fails in Senate
appeared first on Retired Americans
.
This article was first posted on Alliance for Retired Americans website. Click here to visit that page.
The post Americans Keep their Health Care as Repeal Bill Fails in Senate appeared first on IAMAW.