People around the world have been watching the devastating effects of Hurricane Harvey in Gulf States, especially in Houston and surrounding areas in Texas and Louisiana. The Alliance sends its thoughts and prayers to the victims who are suffering through one of the worst hurricanes in our nation's history.
We applaud the work of the first responders and the local, state and federal workers who have been working round the clock to save and protect the people in affected areas. We cannot say enough about the volunteers who have come from around country to provide support. The national Alliance has been in contact with our Texas Alliance Chapter, which is coordinating with the Texas AFL-CIO to render any and all assistance in the most affected areas.
Harvey has especially endangered seniors who are immobile, some of whom were temporarily trapped in nursing homes and assisted living facilities. Fortunately neighbors helping neighbors, and Americans helping Americans, rescued many of them from this horror and showed what makes our country great.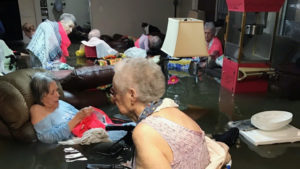 There is a lot of work to be done and the Alliance will do everything possible to be part of the solution. We request that anyone who is able provide assistance to our brothers and sisters in Texas by clicking here
and giving to the Texas Workers Relief Fund.
In addition, please contact your Senators and Representatives and tell them to pass a bill expeditiously that provides all the financial assistance necessary to continue relocating people and rebuilding devastated areas.
_________
"We may have all come on different ships, but we're in the same boat now." – Martin Luther King, Jr.
The post Alliance Pledges to be Part of the Hurricane Harvey Solution
appeared first on Retired Americans
.
This article was first posted on Alliance for Retired Americans website. Click here to visit that page.
The post Alliance Pledges to be Part of the Hurricane Harvey Solution appeared first on IAMAW.
Please follow and like us: