The IAM is pleased to announce the 2018 Scholarship winners. An impartial committee of educators selected 16 recipients for this year's awards. We congratulate the winners and thank all those who participated in the competition.
Linda Xia, Local 692Jenna M. Hebert, Local 264Téa Ann‐Marie Boulanger, Local 692Elizabeth G. Baer, Local 360Autumn Liles, Federal Local 5300Justine Oestricker, Local 660McKenna Riley, Local 1377Shawn M. Stanley, Local 641Kylie Mattice, Local 1377Stephen Kraning, Local 180Bailynn E. Peeler, Local 1720Lisa Lelo, Local 2765Patrick DeFronzo, Local 1726Sarah Nguyen, Local 751FColton C. Millis, Local 696Abbie Glickman, Local 751CHonorable Mentions

Linda Xia
Parent: Yi Bin Xia LL: 692
Company: Wexxar
College: Minerva Schools at KGI
Major: Business/Computer Science


Jenna M. Hebert
Parent: Therese Hebert LL: 264
Company: Plainridge Park Casino
College: Western New England University
Major: Engineering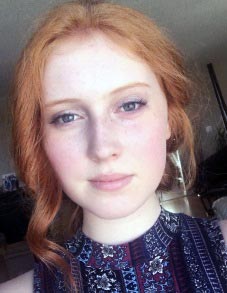 Téa Ann‐Marie Boulanger
Parent: Francis Boulanger LL: 692
Company: Finning Canada
College: University of British Columbia
Major: Science


Elizabeth G. Baer
Parent: Rick Baer LL: 360
Company: Caterpillar
College: Indiana State University
Major: Accounting


Autumn Liles
Parent: Joe Liles LL: FL5300
Company: US Forest Service‐Ouachita Nat'l Forest
College: Southern Nazarene University
Major: Pre‐Med‐Biology


Justine Oestricker
Parent: Brian Oestricker LL: 660
Company: Olin
College: Southern Illinois University‐Edwardsville
Major: Nursing


McKenna Riley (Vo‐Tech)
Parent: Corey Riley LL: 1377
Company: GE Reciprocating Engines
College: Blackhawk Technical College
Major: Mortuary Science


Shawn M. Stanley
Parent: Randy Stanley LL: 641
Company: Auto Truck Transport USA LLC
College: University of North Carolina at Chapel Hill
Major: Biology or Biomedical Engineering


Kylie Mattice (Vo‐Tech)
Parent: Bret Mattice LL: 1377
Company: GE Waukesha Engine
College: Gateway Technical College
Major: Registered Dietician


Stephen Kraning (Member)
LL: 180 Company: Union Pacific RR
College: Bellevue University
Major: Business Management


Bailynn E. Peeler
Parent: Ronnie L. Peeler LL: 1720
Company: Ashland
College: Murray State University
Major: Pre‐Veterinary Science/Biology


Lisa Lelo (Member)
LL: 2765 Company: Alaska Airlines
College: Point Loma Nazarene University
Major: Labor Studies/Business Major


Patrick DeFronzo
Parent: Barbara DeFronzo LL: 1726
Company: United Airlines
College: University of Massachusetts‐Amherst
Major: Chemical Engineering


Sarah Nguyen
Parent: Thao Nguyen LL: 751F
Company: Boeing (Everett)
College: University of Washington‐Seattle
Major: Biology

ROMAN MAYFIELD WINNER

Colton C. Millis
Parent: Franke Millis LL: 696
Company: CSX Transportation
College: Old Dominion University
Major: Mechanical Engineering


Abbie Glickman
Parent: Jason Redrup LL: 751A
Company: DL 751
College: Oregon State University
Major: Physics and Astronomy

Arianna Yorski
Parent: Michael Yorski
Local Lodge 714

Ryan Aschenbrenner
Parent: Paul Aschenbrenner
Local Lodge 655

Alyssa Apilan
Parent: Ralph Alipan
Local Lodge 2323

William JC Clem, III
Parent: William JC Clem, Jr.
Local Lodge 2771

Ruel Reyes (Member)
Local Lodge 16

Amanda Dunker
Parent: Eric M. Dunker
Local Lodge 2544

Paramjit Sandhu (Member)
Local Lodge 2323

Aurelia Carulli
Parent: Onofrio Carulli
Local Lodge 478

Casey VanDenBossche
Parent: Robert VanDenBossche
Local Lodge S‐6

Sierra Boyle
Parent: Hugh F. Boyle, Jr.
Local Lodge 1776

Cameron Dedrick
Parent: Gary Dedrick
Local Lodge 175

Alida Muongchan
Parent: Felix Muongchan
Local Lodge 751A

Samantha Hood
Parent: James Bosworth
Local Lodge 1045

Jaren L. Redic
Parent: Adrian Redic
Local Lodge 751F

Kyleigh Polston
Parent: William Polston
Local Lodge 1745

 
The post 2018 IAM Scholarship Winners appeared first on IAMAW.
Please follow and like us: