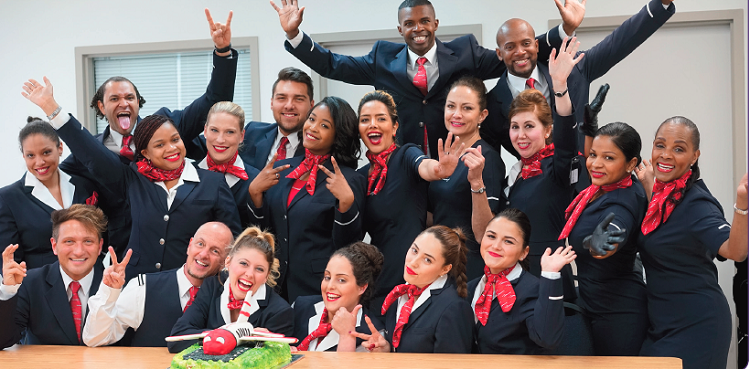 This article originally appeared in the Winter 2017-2018 IAM Journal.
How outside-the-box organizing is growing the IAM transportation sector and protecting good jobs
The airline bankruptcies that followed the 9/11 attacks devastated the industry and permanently changed the landscape for airline workers. Carriers abused the bankruptcy laws to eliminate job protection language that took decades to secure through collective bargaining.
With each drop of a gavel, thousands of airline jobs were lost. Carriers outsourced jobs to low-cost, low-wage ground handling companies.
But recently, as the industry consolidates and airline profits grow, carriers are forming their own subsidiaries to handle ground work.
In response to this new business model, the IAM Transportation Department has successfully utilized outside-the-box thinking to grow IAM membership and bring respect and dignity to more working people. Bargaining good paying jobs evens the industry's playing field and protects all of us.
McGee Air Services
Alaska Airlines' McGee Air Services was formed to handle ground operations at locations not covered by IAM-Alaska Airlines agreements. The timing of the Alaska-Virgin merger, and the airline's desire for the IAM's support in the venture, created the opening to organize McGee workers through an employer neutrality and recognition agreement.
The Transportation Department bargained a tentative first contract that immediately elevated the McGee workers' pay and benefits. As soon as 50 percent of initial hires signed an IAM authorization card, the company granted the IAM recognition. It was later converted to a card-check certification by the National Mediation Board.
McGee has grown from the initial 26 employees in one location in July 2016 to over 1,900 new IAM members in five locations today. That number should double, or more, in 2018.
Some of these workers had been involved in the "Fight for 15" campaign just to better their lives. With this IAM contract, Seattle McGee ramp workers, with their negotiated pay incentives, will be making up to $22 an hour.
United Ground Express
When United Airlines formed a sub-company, United Ground Express (UGE), the Transportation Department's limited-issue expedited negotiations with the carrier laid the groundwork to step into that same model. After securing and expanding work performed by IAM-represented United Airlines main-line employees, the Transportation Department negotiated another neutrality arrangement with UGE, which was operating in 31 locations at the time.
The IAM Transportation Department again negotiated a tentative agreement with the company. Seeing the raise and benefits in the new contract, more than 75 percent of the workforce signed IAM authorization cards. There are currently approximately 1,100 new dues-paying IAM members at UGE, a company that is expected to triple in size. These workers cannot be used to poach mainline United Airlines work from IAM members.
OSAM Aviation Short Haul U.S.
Another innovative organizing effort came with a company called OSM Aviation Short Haul U.S., a cabin crew provider to airlines, initially Norwegian Air International, or NAI.
Airline unions objected to NAI's business model of hiring flight attendants from countries with low labor costs and safety standards, and fought to prevent their entry into the United States. But when the airline received government approval last year and selected OSM Aviation Short Haul U.S. to supply its U.S.-based flight attendants, the IAM Transportation Department secured a neutrality and recognition agreement, negotiated a first contract and received support from a majority of flight attendants to be their new union.
At 100 and growing, these flight attendants now enjoy all-in wage increases from 5.5 to 17.5 percent over their counterparts at a similar company.


Ready to Respond
After airline members were directly affected by the horrific Pulse Nightclub shooting in Orlando, the IAM Transportation Department mobilized to provide assistance. It prompted the formation of a team that's always ready to help members after a traumatic event.
In May, the Winpisinger Center hosted the IAM's first-ever Critical Incident Response Training, or CIRT, class.
The 28 participants of the class are active Employee Assistance Program (EAP) representatives from all three district of the Transportation Department. The main goal of the course was to train the students on how to help individuals cope with the effects of a traumatic event or critical incident.
The course included lectures, mock exercises and real life stories of critical incident experiences; including 9/11, war and airline crashes. In addition to the crisis training, there was training on how to respond to an active shooter.
The IAM has since responded to numerous incidents, including airport shootings in Oklahoma City and Fort Lauderdale, FL.
"The course was intense and informative," said EAP Representative Victor Acosta. "It taught me the proper techniques on how to assist and aid in a time of crisis."
The course was taught by Dr. George Everly, Jr., PHD, ABPP, FAPA from John Hopkins University, Loyola University, Maryland, who is a world renowned expert on crisis intervention.
Additional CIRT courses are being developed.
The post Cleared for Takeoff appeared first on IAMAW.
Please follow and like us: