Would You Be as Brave as This Man?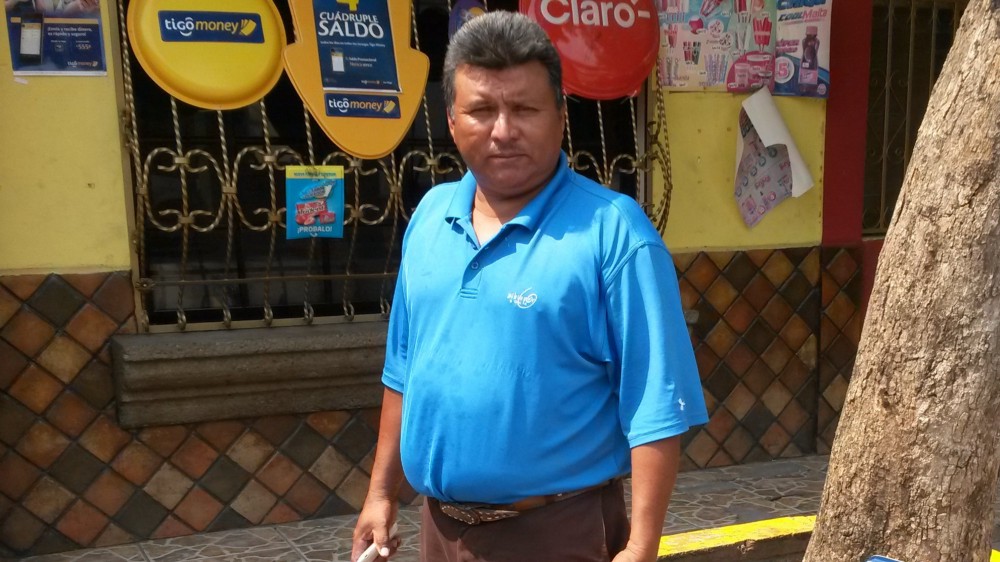 Two brothers, Moises and Misael Sanchez, were bicycling home on April 13 toward the suburb of Santa Ana de Yusguare after a successful organizing meeting of an agricultural union near Choluteca in Honduras. The route took them along a winding road, up through small residential developments amid the canyons and steep hills.
The campaign is a pivotal one. It's in a key region in southern Honduras, where intimidation and violence have plagued every effort to improve the lives of poor and working people. The plantation in this case is a major source of melons and fruit in Europe and the United States. The fruit company is Irish multinational firm Fyffes, so the possibility of attracting international attention to abuses seems realistic. It would be the first successful union drive in the region. If it succeeds, others will surely follow.
It has not been easy. Organizers have been tailed and harassed, and early leaders were held captive and forced to sign anti-union papers.
The scare tactics incite a particular chill in organizers because union leaders get murdered in Honduras on a regular basis. Two men were killed last summer, and the deaths usually follow a pattern. One of the organizers on the Fyffes campaign recently got a death threat.
That's one reason why Moises and Misael traveled together. The union activists have had safety training, but protection from the law is virtually nonexistent. It mostly comes down to folks protecting themselves and each other.
Two hooded men stepped onto the road in front of Moises and Misael. One of the men held a kind of homemade pistol, called a chimba. The other had a machete. It was early evening, about 6:30 p.m. No one else was on the road.
The man with the machete suddenly attacked Misael, hacking him on the face and nearly severing his left jaw. Misael, bleeding and reeling from the blow, stumbled away from his bicycle and into the canyon. The man with the machete ran after him.
As the hooded man with the machete chased after his younger brother, Moises stood on the road looking into the blackness of the barrel of the chimba and realized that both he and his brother were about to be killed, he said later.
Then, two more hooded men emerged a short distance away, stationing themselves at a curve in the road. The man with the chimba robbed Moises of his cell phone and began to look through his contacts to find the names and numbers of co-workers who had signed up to join the International Union of Food Workers.
After half an hour, the man with the machete returned. Gesturing toward Moises, he said to the man with the chimba, "Let's kill him."
But the man with the homemade gun replied that there was no need. He already had the list of union members, he said. The two warned Moises that if he continued to lead the effort to grow the union, they'd murder him for sure.
Moises walked the rest of the way home. The men had taken the bicycles and his cell phone. At Santa Ana de Yusguare, Moises found his brother, still bleeding heavily. He took him to the public hospital in Choluteca. A few days later, Misael was released. He has been recovering, but the ugly wound on his face remained bandaged two weeks later.
Here's the thing. Moises has always known how dangerous it is to be a union leader at Fyffes. But this was different. He had come too close to death, and he had brought his brother too close to the same end.
Moises is married and has a four-year-old daughter. He has four grown children, too. Moises and his brother also financially support their parents, who are too old to work. Moises supervises the laying of perforated irrigation pipe on a 500-acre farm. He and his co-workers want a union, so they can bargain for better pay. Also, the chemicals used on the crops sometimes make the workers sick.
But Moises is done. He's stepping to the side. "I can't continue to lead right now," he said. "I know if I quit, the union will continue, but if I'm dead, I'm dead," he said.
Still, Moises felt compelled to file a police report, which itself takes a special act of courage. Asked if it was dangerous to do so, Moises replied, "Yes, it's dangerous, but it's also necessary."
It's necessary, say union leaders in Honduras, because the country must be ruled by laws. Even if some of the business leaders, police and politicians don't respect the rule of law, the union activists will.
Labor and human rights groups, and workers on the ground like Moises, are preparing a petition to ask the government for protection so no more people get hurt. You can help by joining the effort for Freedom and Fairness for Fyffes Workers.
"We've already had this experience. I don't want this to happen to anyone else, union or nonunion," Moises said.
This post originally appeared at Medium.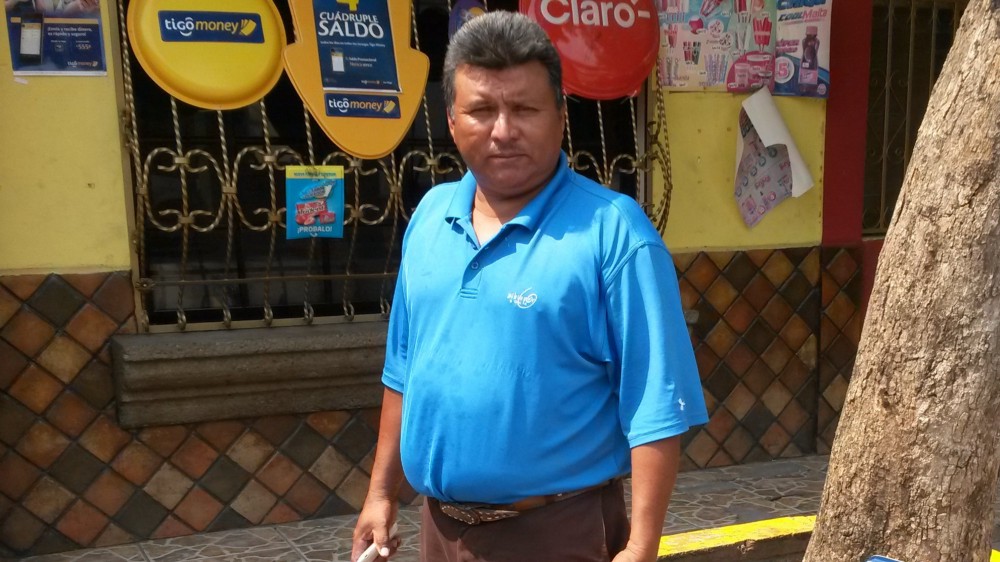 Photo caption: Moisés Sánchez está a cargo del sistema de riego en una finca en Honduras que produce melones para una compañía irlandesa multinacional llamada Fyffes. Ha sido amenazado por su activismo sindical, mientras que su hermano recibió un machetazo en la cara.
¿Tiene la valentía de este hombre?
Fue el 13 de abril cuando dos hermanos, Moisés y Misael Sánchez, se dirigían en sus bicicletas a su casa localizada en el suburbio de Santa Ana de Yusguare. Acababan de salir de una exitosa reunión para organizar un sindicato agrario cerca de Choluteca en Honduras. Su ruta los llevaba por un camino con curvas, por medio de pequeños complejos residenciales que se encuentran entre cañones y lomas empinadas.
Esta es una campaña clave. Se está desarrollando en una importante región en el sur de Honduras en donde la intimidación y la violencia han arruinado cada esfuerzo realizado para mejorar las vidas de los pobres y la gente trabajadora de esta nación centroamericana. Esta hacienda es una de las mayores fuentes de melones y fruta que se consume en Europa y Estados Unidos. La compañía proveedora de la fruta es una corporación multinacional llamada Fyffes, por lo que es realística la posibilidad de que estos abusos acaparen la atención internacional. Esta sería la primera campaña de sindicalización exitosa en la región. De cumplirse, otras seguirían de seguro.
No ha sido fácil. Los organizadores han sido perseguidos y acosados, mientras que los primeros líderes estuvieron cautivos y fueron forzados a firmar documentos en contra del sindicato.
Estas tácticas de intimidación incitan un miedo particular en los organizadores porque los líderes sindicales en Honduras son asesinados con regularidad. Dos hombres fueron asesinados el verano pasado y sus muertes usualmente siguen un patrón. Uno de los organizadores en la campaña de Fyffes recientemente recibió una amenaza de muerte.
Esa es una de las razones por las que Moisés y Misael viajaban juntos. Los activistas del sindicato han tenido entrenamientos de seguridad, pero la protección de las autoridades prácticamente no existe. Al final de cuentas la seguridad consiste en que la gente se proteja entre ellas.
Dos hombres encapuchados aparecieron en el camino de Moisés y Misael. Uno de ellos tenía una "chimba" – el nombre que se le da en Honduras a un arma de fabricación casera. El otro tenía un machete. Estaba comenzando a oscurecer, era alrededor de las 18:30. No había nadie más en el camino.
De repente, el hombre con el machete atacó a Misael, magullando su rostro al punto de casi saturar toda la parte izquierda de su mandíbula. Sangrando y aturdido por el golpe, se apartó de su bicicleta y partió hacía el cañón. El hombre con el machete salió tras de él.
En eso, Moisés se encontraba parado en el camino sus ojos fijados en la oscuridad del cañón de la chimba. Recuenta que pensó que su hermano y él estaban a punto de ser asesinados.
Fue entonces cuando aparecieron otros dos hombres encapuchados, y se pararon en la curva que se encontraba adelante. El hombre que tenía la chimba le arrebató el teléfono celular a Moisés y comenzó a ver los contactos que tenía grabados buscando los nombres y números telefónicos de sus compañeros de trabajo que acababan de unirse al sindicato Federación de Sindicatos de Trabajadores de la Agroindustria (FESTAGRO).
Después de media hora regresó el hombre que tenía el machete. Haciendo un gesto hacia Moisés, le dijo al hombre con la chimba "matémoslo."
Pero el hombre con el arma contestó que no era necesario puesto que, continúo, ya tenía la lista de los miembros del sindicato. Los dos advirtieron a Moisés que si continuaba liderando el esfuerzo para crecer el sindicato, de seguro que lo matarían.
Moisés caminó el resto del camino a su casa. Los hombres se llevaron las bicicletas y su teléfono celular. Encontró a su hermano al llegar a Santa Ana de Yusguare. La sangre le brotaba en abundancia. Se lo llevó al hospital público de Choluteca. Después de unos días le dieron de alta a Misael. Ahora se encuentra recuperándose, pero dos semanas más tardes todavía lleva puesta una gasa que le cubre la herida que le quedó después del ataque.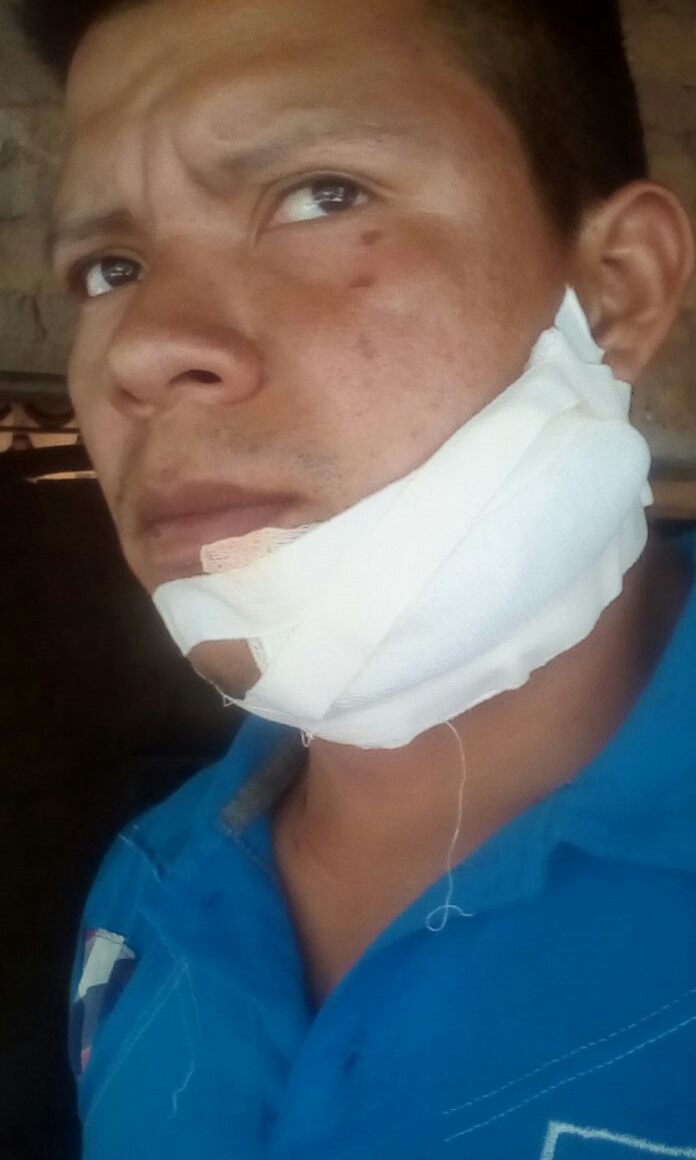 Esto es lo que pasa. Moisés siempre ha sabido que es peligroso ser un líder sindical en Fyffes. Pero esto fue diferente. Estuvo demasiado cerca de la muerte y llevó a su hermano a que corriera el mismo riesgo.
Moisés está casado y tiene una hija de cuatro años. Tiene otros cuatro hijos que ya son mayores de edad. Junto con su hermano tiene que apoyar financieramente a sus padres, que son ancianos y no pueden trabajar. Moisés supervisa el entubado para la irrigación de una hacienda de 200 hectáreas. Con sus compañeros quieren un sindicato para poder negociar por una mejor paga. También, los químicos utilizados en los cultivos afectan a la salud de los trabajadores.
Pero Moisés ya tuvo suficiente. Se va a separar. "No puedo seguir liderando ahora", señaló. "Sé que si me salgo, el sindicato continuará, pero si estoy muerto, estoy muerto."
De todas maneras, Moisés se sintió obligado a denunciar el ataque con la policía –algo que aquí requiere valentía. Cuando se le preguntó si era muy peligroso hacer esto, Moisés respondió que "sí, es peligroso, pero también necesario."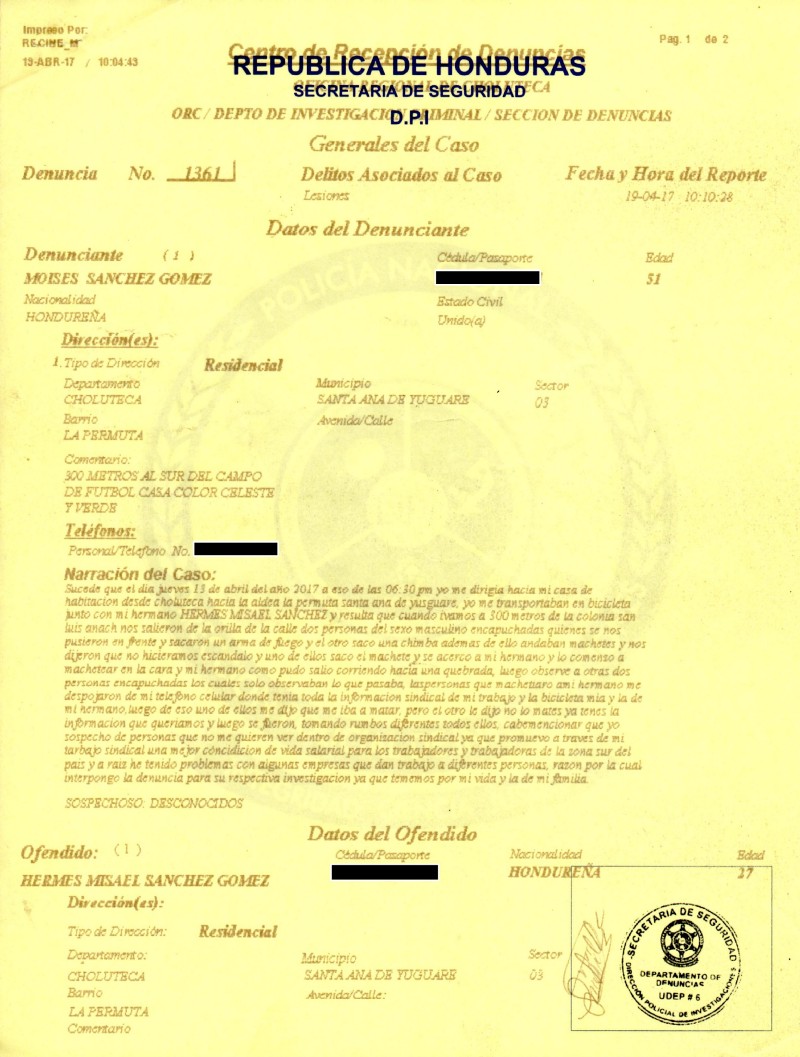 Es necesario, dijeron líderes sindicales en Honduras, porque el país debe ser regido por las leyes. Aunque algunos líderes empresariales, políticos y policías no respetan las leyes, los activistas sindicales si lo hacen.
Los grupos de derechos humanos y laborales, como también los trabajadores que se encuentran en esta localidad como es el caso de Moisés, están preparando una petición para pedirle al gobierno que los proteja y que pare la violencia. Usted puede ayudar y unirse a la campaña ¡Libertad sindical y justicia para las/los trabajadores de Fyffes!
"Ya tuvimos que pasar esta experiencia. No quiero que le pase a nadie más, no importa si está o no está en un sindicato," concluyó Moisés.
Kenneth Quinnell
Tue, 05/09/2017 – 14:32