Working Families Remember 9/11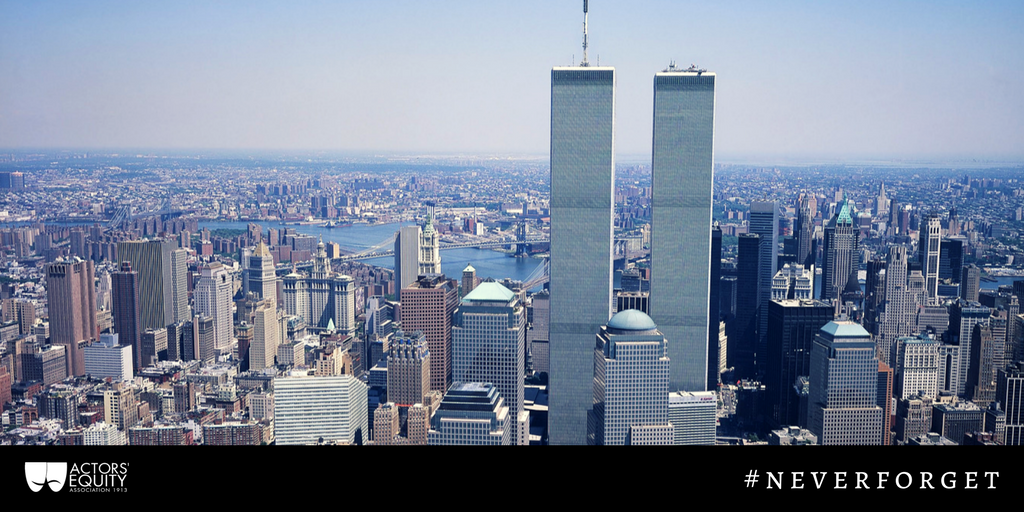 On the 16th anniversary of the Sept. 11 terrorist attacks, America's working people commemorate those who lost their lives and those who worked tirelessly to help us recover and rebuild. Here are their words:
Today marks 16 years since four coordinated attacks on American soil shaped and changed our country as a whole. Two thousand nine hundred and ninety-six American lives were lost and more than 6,000 others were injured as a direct result of those attacks. America as a whole lost its sense of safety and security on September 11, 2001.

Since that day we have been at war, a war that has no end in sight. Millions of young men and women have volunteered and continue to volunteer to serve their country and defend the ideas we hold so dear. Many of those soldiers paid the ultimate sacrifice. Many came home with injuries, ones you can see and so many you cannot.

This war has created a new generation of American veterans who have faced new and difficult struggles. We must insure that these veterans have the support and resources to be able to transition into civilian life, so they can achieve the American Dream.

Today, we honor the ones that we have lost, both at home and abroad and pledge to NEVER FORGET.
"We will always remember their service, their dedication and their courage in the face of one of the most horrific moments in our union's history," said General President Harold Schaitberger. "We will never forget the supreme sacrifice made by our New York fire fighters who risked their lives to save others on that fateful day."
Other unions and organizations memorialized the day on Twitter:
We honor & remember those who made the ultimate sacrifice on 9/11 & in the days, weeks & years that have followed. We will #neverforget. pic.twitter.com/Jzr3E4W6xF

— NYC CLC (@CentralLaborNYC) September 11, 2017
U.S. & FDNY flags are carried across the Brooklyn Bridge by #FDNY members in remembrance of 9/11/01 #NeverForget pic.twitter.com/NyAuGAg430

— FDNY (@FDNY) September 11, 2017
Join us in our vow to #NeverForget September 11th and all those we've lost. pic.twitter.com/jf05LyNzan

— NYPD NEWS (@NYPDnews) September 11, 2017
Today and every day, we remember our fallen. #NeverForget pic.twitter.com/OWChavZSvs

— IAFF Canada (@IAFFCanada) September 11, 2017
Never forget. pic.twitter.com/h3xUSrIjl7

— Laborers Local 79 (@local79nyc) September 11, 2017
Today and everyday we remember those who lost their lives on September 11th and honor the courage of our brave American heroes. #NeverForget pic.twitter.com/kk1FVdswAm

— Local 338 RWDSU/UFCW (@Local338) September 11, 2017
#FDNY members observe a moment of silence at #Engine205 #Ladder118 #NeverForget pic.twitter.com/p26EmtNDjA

— FDNY (@FDNY) September 11, 2017
On #September11, we remember all who lost their lives, esp our 43 sisters & brothers working at the top of the World Trade Center. #1u pic.twitter.com/JKGuHg7qOl

— UNITE HERE (@unitehere) September 11, 2017
We #NeverForget our CWA, @AFA_CWA & @NABETCWA members who lost their lives on #September11th. We honor the fallen & fight for the living 🇺🇸 pic.twitter.com/vF5TR9tTKW

— CWA (@CWAUnion) September 11, 2017
Today we remember those who perished in the horrific terrorist attacks on #September11th. #NeverForget https://t.co/ADJWAKxQ8I pic.twitter.com/elbdblTBf2

— AFGE (@AFGENational) September 11, 2017
Today we remember all our union brothers & sisters, & all the victims who lost their lives on September 11, 2001. We'll #NeverForget. pic.twitter.com/1fXDYCNjFi

— United Steelworkers (@steelworkers) September 11, 2017
This morning, the AFA Honor Guard remembered our heroes at the National 9/11 Pentagon Memorial. Watch: https://t.co/g0PBnBZuEn #NeverForget pic.twitter.com/LBgl5QLNWz

— AFA-CWA (@afa_cwa) September 10, 2017
.@TWULocal100 honors the MTA workers who went to Ground Zero on 9/11 https://t.co/ayO0JmtzmR pic.twitter.com/uTFAAZr3cb

— NYDN Transit (@NYDNTransit) September 11, 2017
No Day Shall Erase You From The Memory Of Time #NeverForget #September11th pic.twitter.com/C32BmkCuSK

— United Airlines ALPA (@UnitedPilots) September 11, 2017
Kenneth Quinnell
Mon, 09/11/2017 – 12:31