Trumka: Charter/Spectrum Employees Want Fair Return on Their Work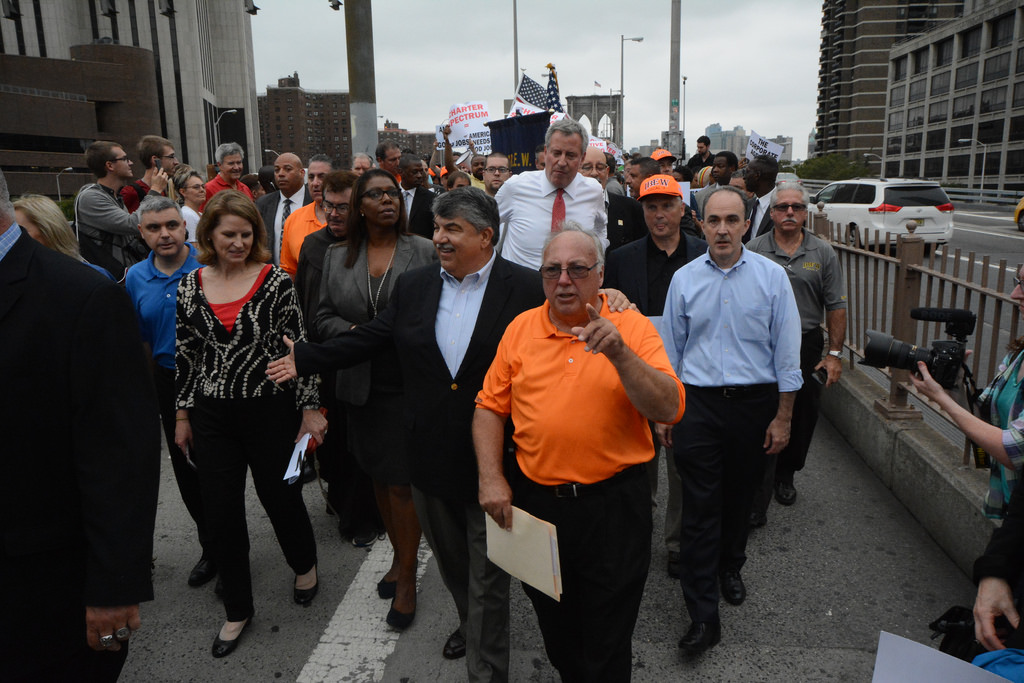 This week, AFL-CIO President Richard Trumka joined union and community leaders marching across the Brooklyn Bridge in New York to show solidarity for Charter/Spectrum workers who are on strike. To those who marched, Trumka spoke about how the hard work of Charter/Spectrum employees have made it one of the most profitable cable companies in the United States. He also spoke to the reasons workers are on strike: 
Working people want a fair return on their work. They want good wages and a decent retirement. They want to provide for their families and enjoy the good things in their lives. They want CEO Tom Rutledge to get to the bargaining table and negotiate a fair deal today.
Here are some key tweets from the march and rally:
I am proud of every single #local3 member. Going on strike takes tremendous sacrifice and I'm proud to join you today. pic.twitter.com/u5LVc3lr1E

— Richard L. Trumka (@RichardTrumka) September 18, 2017
Huge showing of solidarity today in NYC for @IBEW LU 3 #SpectrumStrike "the labor movement has your back" –@RichardTrumka #1u pic.twitter.com/c5Cajg3lKf

— Liz Shuler (@lizshuler) September 19, 2017
Solidarity forever! Awesome to see unions from across @NYSAFLCIO coming together to support #spectrumstrike pic.twitter.com/mrbkXZT0dJ

— AFL-CIO (@AFLCIO) September 18, 2017
Local 3 member Marvin Phillips on Charter CEO Tom Rutledge: "When I was little, my Mom told me to stand up to bullies." #spectrumstrike

— IBEW (@IBEW) September 18, 2017
New York Local 3 getting support from other labor allies today. #spectrumstrike pic.twitter.com/JWsp5Z85IS

— IBEW (@IBEW) September 18, 2017
The labor movement is the demand for respect and fairness. Proud to stand with @IBEW Local 3 #SpectrumStrike pic.twitter.com/p02icZMWU0

— Andrew Cuomo (@NYGovCuomo) September 18, 2017
.@AFLCIO Pres Trumka: if @GetSpectrum wants to get to you, they have to get thru all of us first. #SpectrumStrike #NYC1u pic.twitter.com/PJ6b2QRy8k

— NYC CLC (@CentralLaborNYC) September 18, 2017
Getting ready to walk with @IBEW Local 3 members. #spectrumstrike pic.twitter.com/OKshvKSJlg

— AFL-CIO (@AFLCIO) September 18, 2017
Proud to join the fight with #local3 today, tomorrow, and as long as it takes. #1u pic.twitter.com/mxldVjWCEk

— Richard L. Trumka (@RichardTrumka) September 18, 2017
Kenneth Quinnell
Wed, 09/20/2017 – 12:53