There's No Reason Not to Enter the BuildBuyUSA Video Contest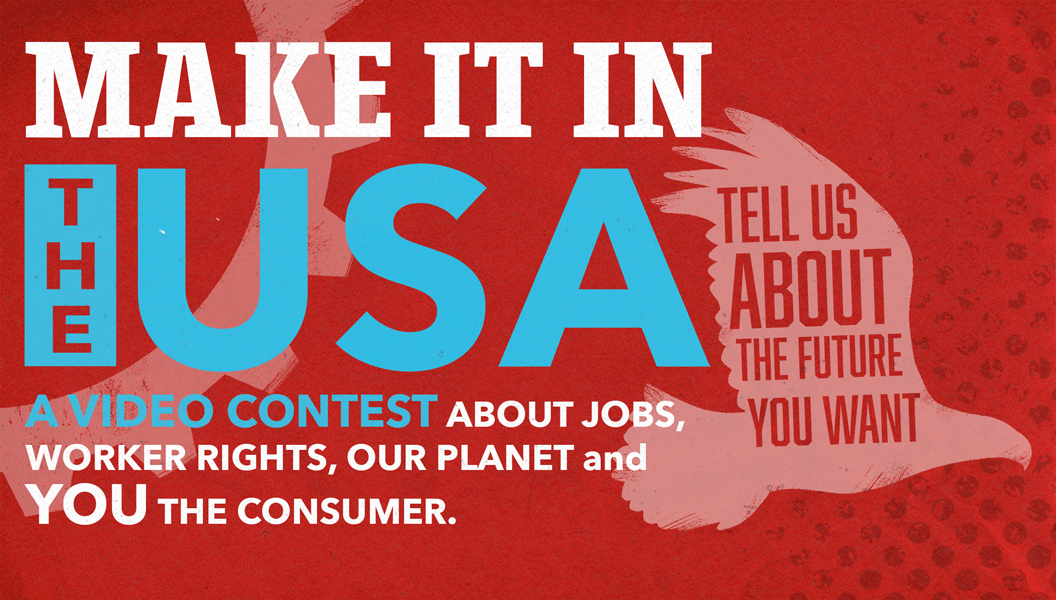 Did you know that BuildBuyUSA is sponsoring a "Make It in the USA" video contest? The competition offers four chances for you to win $5,000 by creating a short video about using your individual buying power to reward pro-union employers for recognizing working people's right to come together in union.
The great news is that the contest is for you. That's right, you have no reason not to enter the competition. I already can hear you coming up with reasons why you can't participate in the contest. Let me answer those concerns and then you can start on your path to the fame and fortune (well, a $5,000 fortune) you so richly deserve!
"Well, there's no way I qualify for this contest."
Sure, you do. All you have to do is be older than 18 and a U.S. resident.
"Creating original content is hard. How do I know the effort is worth it?"
The winners of the contest, and there are four of them, each get $5,000.
"Maybe I'm not in it for the money."
The winner of the best song also gets a recording session at the studios of the American Federation of Musicians in Los Angeles.
"I can't sing."
The contest has a category specifically for videos that aren't songs. And the winner of that category gets $5,000. Non-musical entries also are eligible for the union member-only category and the people's choice category. Your video can be anything; the only limit is your imagination.
"I'm not a union member."
You don't have to be a union member to enter the contest.
"But I am a union member. Does that mean I can't participate?"
You are welcome to participate, too. In fact, there is a separate category just for union members. At least one union member will win $5,000.
"How do I know that the judges are actually knowledgable about the music and the themes of the contest?"
You can check their credentials. The judges include actor/philanthropist/investor Ashton Kutcher, musician/activist Tom Morello, Demos President Heather McGhee, Emmy-nominated cinematographer Michael Goi, AFM Local 47 President John Acosta and musician/labor leader Dan Navarro!
"I don't do well with judges. I'm more of a people person."
Great, there is a people's choice category that will be publicily voted on. The top 20 entries that don't win the awards for best song, best non-song video and the union member category will be put to a public vote, with the winner getting $5,000.
"Nobody will want to listen to my original song, with people doing cover songs and such written by famous musicians."
The contest is limited to original material. There is one big exception. UNITE HERE (the modern International Ladies' Garment Workers' Union [ILGWU]) has invited participants to remake or sample their song "(Look for) the Union Label."
"I don't really have the time to make a video."
The video can't be longer than four minutes. And the submission deadline is April 25. That's two weeks away. Surely you have the time to record a four-minute video in a two-week timespan.
"I have no idea what the video should be about."
No problem. BuildBuyUSA has provided you with the themes.
"OK, well all that sounds good, but I don't know how to get more information about the contest."
BuildBuyUSA has you covered with this handy-dandy website!
So what are you waiting for? Get to work on your video today!
Kenneth Quinnell
Wed, 04/11/2018 – 11:34