The Faces and Stories of TPS Workers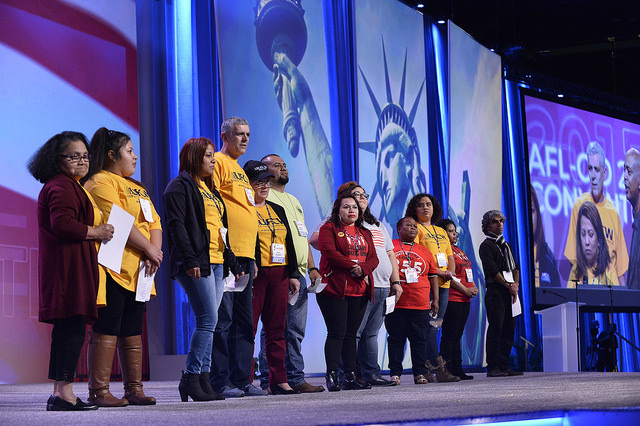 Hundreds of thousands of people have been living and working in our country legally for many years through the Temporary Protected Status (TPS) program.  Now they are at risk of having their status and work permits cruelly stripped away.
These are people we work with every day. Read their stories and watch them speak at last week's AFL-CIO national convention.
Marvin Monge: "I was born in El Salvador. I've been working in the United States for 20 years, and I am an organizer for the International Union of Bricklayers under TPS. I am a proud member of the Bricklayers and Allied Crafts, but I may lose my work authorization. I'm not going forward. I'm going backward. I could become undocumented again, and I don't know how to go back to the shadows. There are people out there who appreciate what our unions are doing."
Francis Garcia: "I was born in San Pedro Sula, Honduras. I've been working in the United States for 22 years as a guest room attendance under TPS, and I'm a proud member of UNITE HERE. Very proud! I have three kids who were born here in Arizona, and I'm a little bit nervous."
Marie Parfait: "I was born in Haiti. I've been working in the United States for 15 years as a dishwasher under TPS, and I'm a proud member of UNITE HERE, Local 355, Miami. I have five kids and 12 grandchildren. Without your help, I may lose authorization to work next year."
Ericka Lopez: "I was born in El Salvador. I've been working in the United States for 17 years. I worked in laundries, but now I am a union organizer under TPS, and I'm a proud member of UNITE HERE! When I listen to this government, I feel worried and scared for me and my family because I don't want to live in the shadows."  
Watch these working people tell their stories as part of AFL-CIO's convention program:
Kenneth Quinnell
Mon, 11/06/2017 – 14:03