Texas Unions Partner with Mayor Turner to Send Supplies to Puerto Rico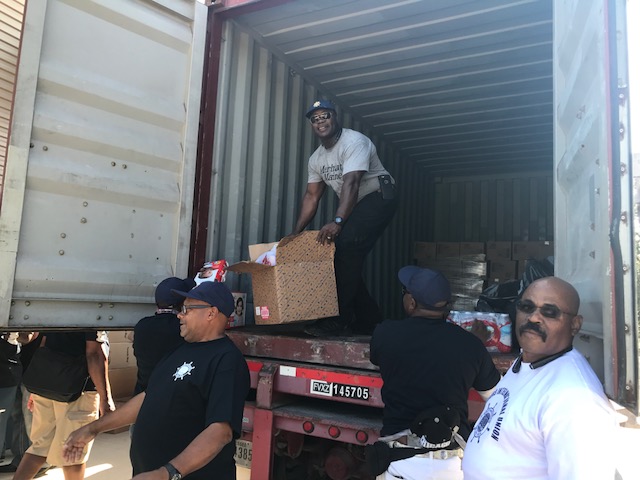 The Seafarers (SIU) union and other Houston-area unions organized a relief drive to collect supplies for Puerto Rican hurricane survivors.
Yesterday, leaders from the Texas labor movement joined together with Houston Mayor Sylvester Turner to load containers with vital supplies for a ship bound for Puerto Rico.
The Seafarers secured the shipping containers and organized with other local unions and the mayor's office to collect materials being donated to Puerto Rican communities impacted by Hurricane Maria. Recent reports state that 85% of the island is still without electricity and 40% of the population still lack access to clean drinking water.
The cargo ship is delivering water, nonperishable food, toiletries, battery-powered electronics, mops, brooms and other desperately needed items to the Puerto Rico AFL-CIO in San Juan. The supplies will be shipped on the National Glory, a U.S.-flagged vessel owned and operated by National Shipping of America, that will be crewed by SIU members under the Jones Act. Plans to send more cargo to Puerto Rico are in the works.
"The labor movement is at its best when we work together during times of great need. We saw that here in Texas after Hurricane Harvey, and now we want to extend that help to Puerto Rico," said Zeph Capo, president of the Texas Gulf Coast Area Labor Federation.
Dean Corgey, vice president of the Gulf Coast Region of the Seafarers, said, "Mayor Turner has been a stalwart supporter of Houstonians and others harmed by hurricanes recently. We're proud to be partnering with the mayor on this effort to bring aid to Puerto Rico."
Kenneth Quinnell
Mon, 10/16/2017 – 16:05
Please follow and like us: