Texas AFL-CIO Takes Next Step to Expand Union Participation in Citizenship Drives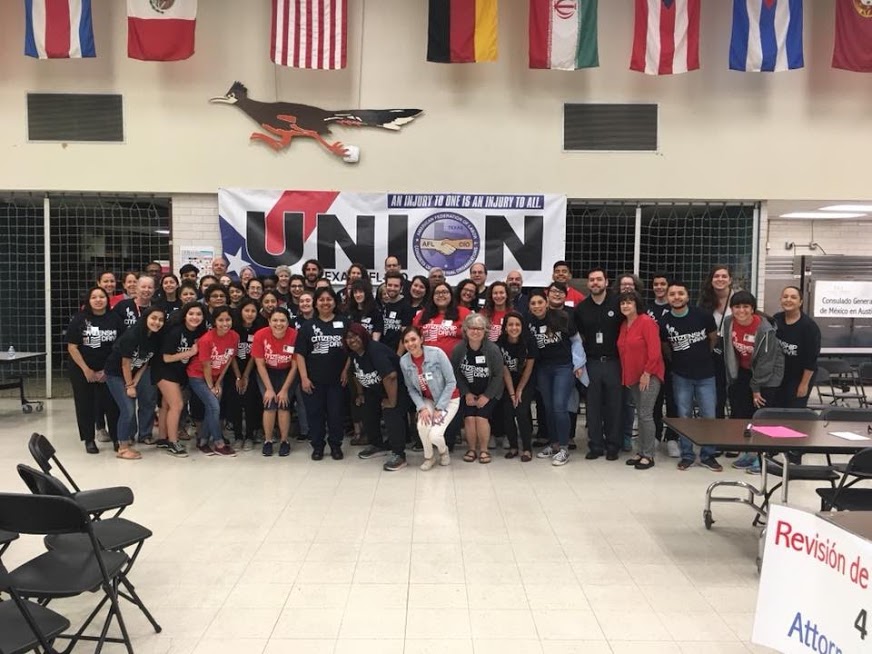 In January, delegates to the Texas AFL-CIO COPE Convention unanimously approved a far-reaching resolution calling for the state federation and affiliates to conduct citizenship drives across the state, with the long-term intent of registering new voters and changing the political environment.
On April 10, in a strategy meeting attended by union affiliates from across the state, the Texas AFL-CIO took the next step to fulfill the goals of that resolution.
We were honored to welcome as a major participant Esther Lopez, international secretary-treasurer of the United Food and Commercial Workers, whose union has done pioneering work on citizenship drives. Lopez described the initiative as "the throwdown in Texas."
Rather than taking a "go big or go home" approach, Lopez said, unions need to "go deep" and commit to making citizenship drives "core union work" that goes hand in hand with organizing and political education. She said UFCW has done citizenship drives in big cities, but also in places such as Marshalltown, Iowa, and Tar Heel, N.C. The union has trained 700 volunteers and helped 3,000 UFCW members become citizens, Lopez said.
Lopez said citizenship drives transform the lives of working people.
Representatives from unions, central labor councils, constituency groups and allies were warm to the idea of designating members who will take responsibility for growing the program.
Allies from the Equal Justice Center, United We Dream, Casa Marianella and the Mexican Consulate detailed citizenship drives that have been held in Austin over the last few years.
The AFL-CIO passes along a startling statistic that makes Texas prime ground for union citizenship drives: Our state has more than 1 million people who are eligible to become naturalized citizens, based on an American Community Survey by the U.S. Census.
Eligible residents don't move through the process at a high rate of speed because of cost ($725 to apply) and complexities of the application process. A growing number of employers and lenders are helping out with the expenses, either defraying costs outright or setting up manageable payment plans. As for the complexities, that's where citizenship drives can make a giant difference.
We are not starting from ground zero. For years now, Education Austin has worked with the Texas AFL-CIO, other unions and allies in carrying out citizenship drives. Eleven Education Austin-led drives have resulted in completed applications for approximately 1,200 people, said Texas AFL-CIO Secretary-Treasurer Montserrat Garibay, who took the lead in organizing citizenship drives when she worked at Education Austin.
The most recent one, which took place last week, resulted in 112 completed applications for naturalization. Applicants go to workshops ahead of the events to learn what information and documentation they need to fill out an application. On the day of the drive, they leave with a well-vetted application, down to a properly addressed envelope. The Austin events have generated hundreds of volunteers, including the officers and most of the staff of the Texas AFL-CIO. Few bouts with bureaucracy give us so much pleasure.  
Texas AFL-CIO President Rick Levy said the next step will be to train union representatives on developing local citizenship drives. The unions and labor organizations at the meeting committed to identifying and sending such leaders for training in June or moving quickly to obtain officer approval.
Garibay emphasized the program has to be long-term. She said the potential for citizenship drives to accelerate the change happening in Texas is not around the corner.
"You're not going to see changes in 2020," said Garibay, who was naturalized five years ago. "It's going to be a long process, but we have to be committed."
Levy said the people who become citizens after going through the union process are instantly aware of the role their new status can play in their workplaces and in society. The potential is extraordinarily high, he said. "This program is an on-ramp for over 1 million people to become participating, voting Texans."
Kenneth Quinnell
Thu, 04/12/2018 – 10:45