Ten Years Later: Worker Wins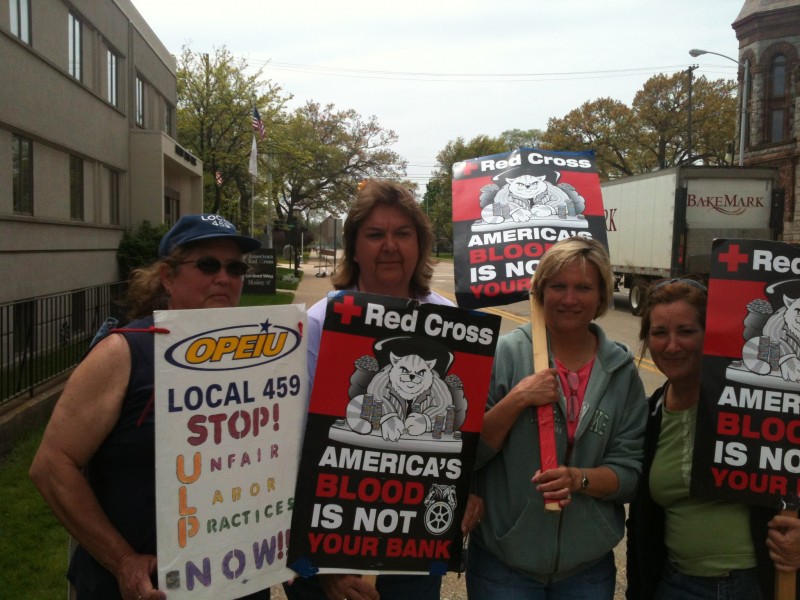 Our latest roundup of worker wins begins with a victory 10 years in the making and includes numerous examples of working people organizing, bargaining and mobilizing for a better life.
OPEIU Workers Win Historic 10-Year Fight at American Red Cross: After a decade-long battle, workig people at American Red Cross in Michigan have won a new contract. They also came to resolution of an unfair labor practice charge that will repay workers more than $1.6 million in lost benefits.
A Growing Wave of Campaigns Are Organizing: In advance of the 2018 midterm elections, nine Democratic campaigns have come together in union. Additionally, Revolution Messaging, a digital communications firm, also has unionized. The newly organized campaign workers are represented by The Campaign Workers Guild, which is assisting in negotiations with dozens of other campaigns. The nine campaigns that have organized so far are: for the U.S. House of Representatives—Randy Bryce (Wis.), Brian Flynn (N.Y.), Dan Haberman (Mich.), Jess King (Pa.), Marie Newman (Ill.), Andy Thorburn (Calif.); attorney general—Renato Mariotti (Ill.); governor—Erin Murphy (Minn.); and County Council—Chris Wilhelm (Montgomery County, Md.).
Restaurant Workers Win Protection for Their Tips: Restaurant workers across the country won big with legislation that codifies protections for tipped workers against employers taking any portion of their tips. "Today represents a historic victory for restaurant workers. The National Restaurant Association wanted to steal workers' tips, but the workers said no—and they won. The fact that hundreds of thousands of workers stood up and said no to employers taking their tips, and that congressional leadership listened and acted, is a testament to the power of workers standing up together," said Saru Jayaraman, president of Restaurant Opportunities Centers United.
California Nurses Want New Safety Rules Made National: The California Nurses Association/National Nurses United (CNA/NNU) pushed for and got new safety regulations, as the rate of nonfatal violence against nurses is three times higher than against other industries. Now the nurses are pushing for the same rules to be established nationally. "What works for health care facilities should be extended to all workplaces. Our patients and their families are then also at risk because violence impacts everyone in the vicinity. We know that the frequency and severity of these violent attacks can be drastically reduced through workplace violence prevention plans that are specific to the needs of each facility and unit and are created with the expertise and input of nurses and other workers," said NNU Executive Director Bonnie Castillo.
Onion Staff Request Formal Recognition of Union: The overwhelming majority of staff at satirical website The Onion have signed cards expressing their desire to be represented by the Writers Guild of America, East, (WGAE) and asked management to voluntarily recognize the union. The unit would represent all of the creative staff at The Onion and related websites.
Aviation Workers at FAA Join PASS: Working people at the Federal Aviation Administration's Eastern, Central and Western Service Centers voted by an overwhelming majority of 89% to be represented by the Professional Aviation Safety Specialists (PASS). "This is a big win for PASS, of course," said PASS National President Mike Perrone, "but more importantly, it's a big win for these dedicated federal employees. They will soon be able to enjoy the workplace benefits of a collective bargaining agreement."
Facebook Cafeteria Workers Win Major Improvements: Food service workers at Facebook's offices in Menlo Park, California, ratified their first union contract. "We're glad to have negotiated this first contract; it's a big step forward for cafeteria workers in Silicon Valley. We still have work to do, and we're not going to stop until all the food service jobs have the job standards and security that people need to live a decent life," said Enrique Fernandez of UNITE HERE Local 19.
New Republic Employees Continue Trend of Editorial Organizing: Editorial staff at The New Republic, which has been published for more than 100 years, have joined The NewsGuild of New York, joining a growing trend of editorial organizing, which includes publications like the Los Angeles Times, the Chicago Tribune and Mic.com. "We all work for TNR because we love it here, but all workers need the protection of a union. We believe that unionizing is the best way to strengthen our workplace, not just for ourselves but for future generations of journalists. By organizing, we're simply affirming our commitment to The New Republic's progressive values. We're also affirming our commitment to each other," said Sarah Jones, staff writer.
California Virtual Educators Agree to First Union Contract: Teachers who work for California Virtual Academies, one of the largest online public charter schools, reached an agreement on their first union contract. "Organizing teachers in a workplace—where we don't see our peers and where the bargaining unit stretches across a state as large as California—isn't easy, and it also isn't easy establishing a precedent-setting agreement. We are so proud of the hard work and commitment our teachers made in ensuring that our core values on work status, caseloads and workload were recognized….Our schools here in California and other online schools have had very little input from the teachers on the front line. This agreement will change that and allow those who work most closely with students a greater say in shaping the curriculum and school policies."
NLRB Regional Director Certifies Green Valley Ranch Employees' Election to Join Culinary Workers: Despite a history of telling employees that it would respect the results of their union election, Station Casinos challenged the election where a super majority of 78% of Green Valley Ranch's working people voted in favor of the union. The NLRB regional director rejected the challenge and certified the election, finding no objectionable conduct by union organizers.
Kenneth Quinnell
Wed, 04/18/2018 – 13:38