Support Unions This Holiday Season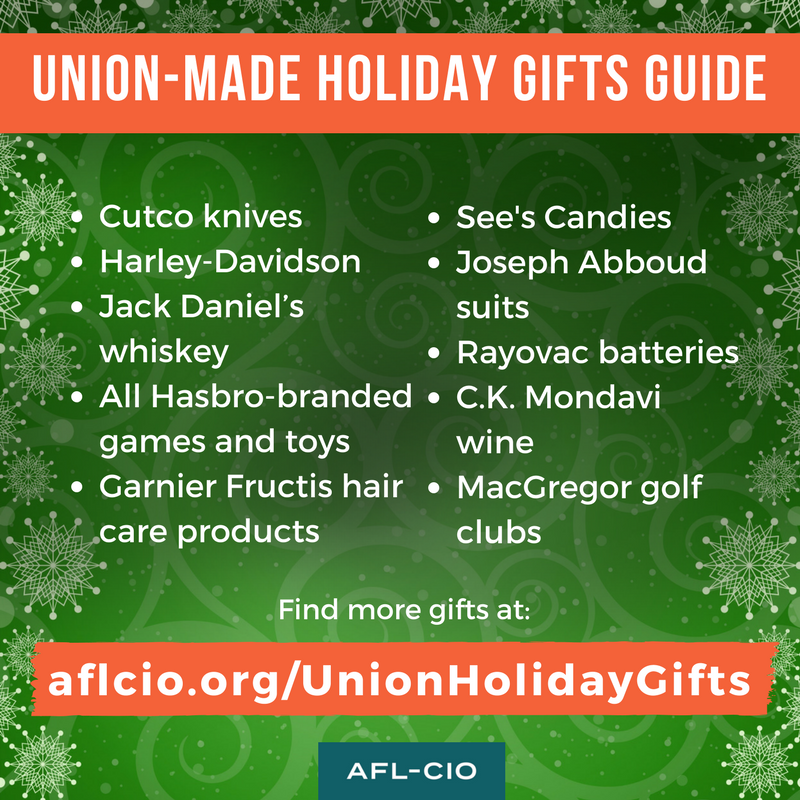 The following is a list of union things to do this holiday season.
Washington, D.C. 
By Jackie Jeter, president of the Metro Washington Council AFL-CIO, and Cherri Senders, president of Labor 411
Despite the challenges the labor movement has faced with recent policy changes imposed by the Trump administration, the spirit of organized labor burned brightly in 2017 in Washington, D.C. The Nation's Capital scored a significant victory in July when the minimum wage was increased to $12.50 per hour.
As natives and visitors well know, D.C. and its surrounding communities exhibit some of the most scenic and exciting holiday attractions in the nation, from spectacular shows at local unionized entertainment venues to outdoor and natural displays. The 2017 holiday season offers a number of different options for all ages and price ranges through the end of December and into January. We thank our union brothers and sisters for all they do to make the holiday season so memorable and joyous.
"An American in Paris" at the Kennedy Center 
When: Now – Jan. 7, 2018
Where: 2700 F St., NW, Washington, DC 
What: Award-winning stage adaptation of the classic movie, featuring the music of George and Ira Gershwin, "An American in Paris" is a remarkable combination of classic music, a timeless story and riveting dance. 
Unions: AEA, IATSE, AFM 
More Info: Click here
National Christmas Tree in President's Park 
When: 8:30 a.m. to 4:30 p.m. (the Jefferson Building is closed Sundays and on Christmas). 
Where: 101 Independence Ave, SE, Washington DC, 20540. First Street, SE, entrance 
What: The National Christmas Tree is part of a three-week celebration of music and festivities in the nation's capital. The beautiful spectacle is located in President's Park near the White House. The walkway surrounding the National Christmas Tree features trees decorated with handmade ornaments from 56 U.S. States and territories. The tree is lit by 4:30 p.m. every day. 
Union: AFSCME
More Info: Click here
Conservatory and Holiday Concert Series at United States Botanic Garden 
When: 10 a.m.–8 p.m.
Where: 100 Maryland Ave, SW, Washington, DC 20001
What: The conservatory is a beautiful display of a tropical paradise hosting one of the largest indoor decorated trees; it is home to an array of poinsettias and their plant cousins. 
Union: AFGE 
More Info: Click here
ZooLights at the National Zoo
When: Now – Jan. 1, 2018
Where: 3001 Connecticut Ave., NW, Washington, DC 20008
What: Join the thousands of visitors who make ZooLights a part of their annual holiday tradition. ZooLights includes live music performances, tasty winter treats and plenty of opportunities for holiday shopping. More than 500,000 environmentally friendly LED lights transform the Zoo into a winter wonderland complete with a dazzling light show set to music.
Union: AFGE
More Info: Click here
ICE! at the Marriott's Gaylord National Resort & Convention Center 
When: Now – Jan. 4, 2018
Where: 201 Waterfront St., National Harbor, Maryland 20745
What: A signature holiday attraction is back with a new theme in 2017! Experience favorite scenes from "Rudolph the Red-Nosed Reindeer" brought to life in this walk-through winter wonderland carved from more than 2 million pounds of ice.
Union: UNITE HERE
More Info: Click here
Los Angeles 
By Rusty Hicks, executive secretary-treasurer, L.A. County Federation of Labor, AFL-CIO, and Cherri Senders, president, Labor 411
As we enter the holiday season and look back over the nearly concluded 2017, labor can take a lot of pride in what we have accomplished. Our ongoing fight for better wages, hours and benefits continues, and our committed LA union workers have joined their brothers and sisters in solidarity across a number of issues. We stood in opposition to President Trump's executive orders involving immigration and the anticipated repeal of DACA. We participated in the Women's and May Day Marches and helped defeat the disastrous anti-affordable housing bill, Measure S.
In addition, we graduated three cohorts from the Second Chance Pre-Apprenticeship Bootcamp, have seen workers at the Los Angeles Times take the next step toward forming a union, and welcomed the expansion of Build Your Dreams' Lancaster factory, a move that will mean hundreds of more good union jobs for the city's first union electric bus manufacturer. Whatever the season, we can count on L.A.'s unions to stay hawkish for positive change both throughout the city and nationally.
The holidays are always a joyous and festive time in Southern California. Our warm weather cools (at least a little), and both native Angelenos and visitors can look forward to a vast array of seasonal festivities. Whether your preference is live performance, theme parks, galleries or the outdoors, there are plenty of wonderful ways to usher in the holiday spirit, all while supporting good local jobs.
The following events are proudly staffed by union employees who are paid fair wages and treated ethically.
"A Christmas Carol" at A Noise Within
When: Now – Dec. 23
Where: 3352 Foothill Blvd., Pasadena
What: ANW's delightfully festive, musically merry holiday tradition returns! Who doesn't love the inspirational story of Bob Cratchit, Tiny Tim and Scrooge?
Union: AEA
More Info: Click here 
Holiday Sing-Along at Walt Disney Concert Hall
When: Dec. 16–23
Where: 111 S. Grand Ave., Los Angeles
What: The holidays will be awash with music at the glorious Disney Concert Hall, with concerts including a Holiday Sing-Along, the Grammy-winning 12-man chorus Chanticleer, a cappella sensations Naturally 7 and a sing-along screening of the beloved 1954 film classic "White Christmas."
Union: IATSE
More Info: Click here 
"How the Princh Stole Christmas" at the El Portal Theatre
When: Dec. 21–31
Where: 5269 Lankershim Blvd., North Hollywood. 
What: The zany Troubadour Theater Co. pays tribute to the Purple One himself as they send up the music of Prince while mashing it with the story of Dr. Seuss's "How the Grinch Stole Christmas." Seuss' detestably fiendish hero, the Grinch, gets a makeover he won't soon forget, as he transforms from Green to Purple in this musical yuletide spoof. 
Unions: AFM, IATSE
More Info: Click here 
Holiday in the Park at Six Flags Magic Mountain
When: Now through Dec. 31
Where: 26101 Magic Mountain Parkway, Valencia
What: Six Flags Magic Mountain lights up the season. See the park transform into a magical winter wonderland with millions of twinkling lights, carolers, holiday entertainment and your favorite thrilling rides.
Unions: AFM, IAM, IBT, UFCW, UNITE HERE
More Info: Click here
Philadelphia
By Patrick Eiding, president, Philadelphia Council AFL-CIO, and Cherri Senders, president, Labor 411
As we approach the end of the year and take full advantage of the joyous holiday season, we can look back over the achievements of organized labor in our great city.
Philadelphia's working people have won some landmark victories in 2017: after four years of bargaining, campaigning and fighting off management's attempts to impose a contract, the Philadelphia Federation of Teachers won a new collective bargaining agreement with the School District of Philadelphia, and as a bonus the School Reform Commission voted to dissolve itself, to be replaced by our own, local board of education. Adjunct instructors at Temple University won their first union contract, as did RNs at Hahneman, Einstein and St Christopher's Hospital for Children. Unions in the building trades and the hospitality industry launched major pre-apprenticeship and training programs that will help young people in Philadelphia enter stable, skilled careers as union members.
December is the time to embrace all the wonder of winter. With the holidays upon us, the city becomes a wonderland where visitors and locals alike can enjoy all the season has to offer. Whether you are lacing up your ice skates for a glide in the Winter Waterfront, shopping at the Christmas Village in LOVE Park, enjoying a seasonal themed play or concert or taking in one of our world-famous museums, it's so easy to choose an activity that (like the events listed below) also supports good jobs and a strong middle class. While keeping up the holiday spirit, please also support the ethical consumer movement by continuing to patronize employers who treat their workers fairly.
Happy Holidays!
The Pennsylvania Ballet presents "The Nutcracker" at the Academy of Music
When: Now–Dec. 31
Where: 240 South Broad St., Philadelphia 
What: The Philadelphia Ballet presents George Balanchine's classic, complete with giant mice, dancing snowflakes, a growing Christmas tree and an enchanted nutcracker, all of which are sure to delight the inner child in everyone.
Union: IATSE
More Info: Click here
A Very Philly Christmas December Drop In at Fairmount Park
When: Now–Dec. 31
Where: Participating historic houses include Cedar Grove, Laurel Hill Mansion, Lemon Hill Mansion, Historic Strawberry Mansion and Woodford Mansion. All houses are located within East and West Fairmount Park in Philadelphia.
What: Drop in at the historic houses of Fairmount Park, which will be decked out for the holidays. Learn interesting facts about each house and enjoy at a comfortable, relaxed pace. 
Union: AFSCME
More Info: Click here
Skate With Santa at Delaware River Waterfront
When: Now–Jan. 21, 2018
Where: 101 S. Columbus Blvd., Philadelphia 
What: Lace up those skates and snap a portrait on ice with Blue Cross RiverRink Winterfest's Skating Santa. For a special photo on stable ground, you can plop down atop the giant Visit Philly chair for a photo that can feature the entire family.
Union: IATSE
More Info: Click here 
"It's a Wonderful Life: A Live Radio Play" at Walnut Street Theater
When: Now–Dec. 17
Where: 825 Walnut St., Philadelphia
What: The holiday classic comes to life as a radio play with five actors, including an imaginative sound-effects artist. Down on his luck George Bailey gets some help from an angel who helps him embrace the spirit of the season. 
Unions: IATSE, AEA
More Info: Click here
Holiday Garden Railway at the Morris Arboretum
When: Now–Dec. 31
Where: 100 E. Northwestern Ave., Philadelphia
What: Amid the evergreens at the beautiful Morris Arboretum, the popular Holiday Garden Railway showcases a miniature winter wonderland complete with a quarter-mile of model-train track, seven loops and tunnels, 15 rail lines, and model trains that cruise past scaled replicas of historic monuments and Philadelphia landmarks all adorned with thousands of twinkling lights. Friday Night Lights provide evening viewings on select nights.
Union: AFSCME
More Info: Click here
San Francisco
By Tim Paulson, executive director, San Francisco Labor Council, and Cherri Senders, president, Labor 411
As 2017 draws to a close, it's important to take some time to celebrate the season and enjoy the true magic of the Bay Area. We have handpicked some union-staffed holiday events that will keep your family and friends smiling and in the joyous spirit of the season. Best of all, your patronage of these events is helping to support good jobs. We hope you will enjoy these events, which  bring people together from all over the Bay Area to celebrate the holidays and the splendor of our region.
Happy Holidays!
American Conservatory Theater — "A Christmas Carol" at the Geary Theatre
When: Now–Dec. 24 
Where: 415 Geary St., San Francisco 
What: Featuring a lively cast of dozens, gorgeous costumes and spooky ghosts, the Bay Area's favorite holiday tradition returns with a sparkling, music-infused production of the Charles Dickens classic.
Union: AEA
More Info: Click here
ZooLights and Reindeer Romp at San Francisco Zoo & Gardens 
When: ZooLights: Dec. 15–30, Reindeer Romp: Now–Jan. 1, 2018
Where: Sloat Boulevard at Great Highway
What: See the Zoo in a whole new light! ZooLights 2017 takes you on a magical trip with Santa Claus, reindeer and seasonal delights. Santa is sending his favorite reindeer Belle, Holly and Peppermint to spread holiday cheer. Learn what they eat and see what they look like up close and on the ground.
Unions: IBT, UNITE HERE
More info about ZooLights: Click here. More info about Reindeer Romp: Click here.
Holiday in the Park at Six Flags Discovery Kingdom 
When: Now–Jan. 7, 2018
Where: 1001 Fairgrounds Drive SW, Vallejo 
What: Enjoy a breathtaking winter wonderland featuring a variety of delightful and interactive activities to help capture the holiday spirit.
Union: IAM
More Info: Click here
San Francisco Symphony Holiday Performances at Davies Symphony Hall
When: Now–Dec. 31
Where: 201 Van Ness Ave., San Francisco
What: Multiple holiday performances including Cirque de la Symphonie, A Merry-Achi Christmas, Handel's Messiah, Home Alone with Live Orchestra
Unions: IATSE, UNITE HERE
More Info: Click here
San Francisco Ballet presents "The Nutcracker" at War Memorial Opera House
When: Dec. 13–30
Where: 301 Van Ness Ave. (in the Civic Center), San Francisco 
What: The music soars, snowflakes swirl, flowers dance and a little girl dreams about a whole new world in a "Nutcracker" that is as unique as it is magical. 
Unions: IATSE, UNITE HERE
More Info: Click here
New York
By the staff at Labor 411
There's no place like the Big Apple for the union holiday season! Whether you're enjoying a classic seasonal ballet, taking in a Broadway show, kicking it up with the Rockettes or being dazzled by the lights, you will find no shortage of fabulous entertainment for all ages and price ranges. As you enjoy these seasonal favorites, be sure to send a round of holiday thanks to the union brothers and sisters who helped make it all possible. Celebrate Union Style!
Happy Holidays!
Rockefeller Christmas Tree
When: Now–Jan. 7, 2018 
Where: 30 Rockefeller Plaza, New York City  
What: Every Christmas, thousands of New Yorkers and tourists alike travel to the brilliant nexus of town: the Rockefeller Christmas Tree. This year's version will be the best one yet, so whether you're stopping by for the ice skating or to enjoy the famously lit tree, you will certainly feel the magic when you witness the wonder of the 78-foot, 10-ton Norway Spruce illuminated by more than 45,000 LED lights.
More Info: Click here
Christmas Spectacular at Radio City Music Hall
When: Now–Dec. 31 
Where: 1260 Avenue of the Americas, New York City    
What: The iconic show has undergone a complete technological overhaul for 2017 and the entire production has been enhanced with updated technology, including a brand-new 8K LED wall and digital projections that will extend to all eight of Radio City Music Hall's iconic proscenium arches. Audiences will feel like they are part of the show. 
More Info: Click here
Holiday Train Show at New York Botanical Garden 
When: Now–Jan. 15, 2018 
Where: 2900 Southern Blvd., Bronx    
What: This year's exhibition showcases Midtown Manhattan's iconic skyscrapers and other architectural wonders, including new replicas of the Empire State Building, Chrysler Building, General Electric Building and St. Bartholomew's Church. 
More Info: Click here 
The New York City Ballet presents "The Nutcracker" at Lincoln Center 
When: Now–Dec. 31 
Where: 20 Lincoln Center Plaza, New York City     
What: As the clock chimes midnight, a brave young girl turns the tide in a battle between toy soldiers and mischievous mice, and a blizzard of ballerinas reveals a wonderful world of confection. 
More Info: Click here 
"SpongeBob SquarePants" at the Palace Theatre 
When: Now 
Where: 1564 Broadway, New York City      
What: The Undersea community comes to life in this musical adaptation of the beloved Nickelodeon cartoon series. 
More Info: Click here 
Tim Schlittner
Thu, 12/21/2017 – 15:44
Please follow and like us: