Students Work Together to Create Change at Nike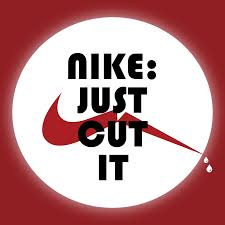 In a powerful illustration of the ability of grassroots activists to challenge corporate power, United Students Against Sweatshops, the nation's leading student organization focused on issues of worker rights and economic justice, has just scored a crucial victory over the world's biggest sports apparel and footwear brand: Nike.
Back in the late 1990s, USAS, with the support of the AFL-CIO and a number of affiliates, carried out a groundbreaking campaign to convince universities to write binding protections for workers in contract factories into their lucrative apparel licensing deals with Nike, Adidas, Russell Athletic and other brands. The students won, securing not only enforceable labor rights requirements for every factory around the world involved in the production of university logo apparel, but also the creation of a genuinely independent investigative body to handle verification and enforcement. By design, that organization, known as the Worker Rights Consortium, takes no money from any apparel company or other corporation and is accountable instead to universities, students and labor rights organizations. (The AFL-CIO sits on the WRC's Board of Directors.) Backed by USAS's activist leverage, and empowered as an enforcement agent for more than 190 universities and colleges, the WRC has exposed labor rights violations at hundreds of garment factories and helped workers end abuses and improve conditions.
In many cases, WRC investigations and USAS campaigns have enabled workers to form unions in some of the toughest organizing environments in the world. These efforts also have compelled brands to make workers whole in cases where the brands' contractors have stolen workers' wages. Such restitution is otherwise unheard of in the global garment industry. These successes stand in glaring contrast to the "corporate social responsibility" schemes operated by the brands, which claim to protect workers in supply chains, but serve mainly to protect the reputations of the brands, while poverty wages and abusive, anti-union management practices continue unchecked.
It is because of the power and effectiveness of these binding university labor codes and independent investigations—which have forced Nike to pay millions of dollars in compensation to garment workers at contract factories, allowed workers at more than a dozen key factories to unionize and compelled other improvements—that Nike decided in late 2015 to stop letting the WRC into its factories. Nike also demanded that universities rewrite their licensing agreements with the company to relieve Nike of most of its labor rights obligations. Nike's gambit represented a genuine threat to everything the students' labor rights activism had accomplished: because Nike has enormous financial leverage over many of the universities (it has sponsorship deals with some schools worth in excess of $200 million to the schools) its demands can't be ignored.
Facing the toughest target in the sports apparel industry, USAS swung into action and, over the past year and a half, carried out a national campaign to convince universities to resist Nike's anti-worker demands and force the company to resume cooperating with the WRC. USAS had no big campaign budget, but the organization has a long track record of effective grassroots mobilization, despite limited resources. USAS organized major campus-level campaigns at more than 25 key schools, involving a range of creative protest tactics, including sit-ins and other direct action. USAS worked with union allies in the Global South to organize tours of university campuses by labor leaders from Thailand and Cambodia, who were able to talk from direct experience about the enormous value to workers of universities' enforceable labor standards and the WRC's independent monitoring. From a global day of action, in which workers around the world held solidarity protests, to powerful video compositions featuring the voices of workers from Nike contract factories, to creative use of social media, the USAS campaign was a model of modern grassroots activism—the kind of "asymmetrical warfare" that enables a group of student activists to take on one of the most powerful corporations in the world and win.
And win they did. Urged on by USAS's activism, Georgetown University, Cornell University, the University of Washington, Rutgers University and other key universities began announcing plans to terminate their contracts with Nike. After extensive negotiations with the WRC, facilitated by Georgetown, Nike agreed to sign a new protocol guaranteeing the WRC access to its factories, on terms stronger than the pre-existing ones Nike was trying to roll back. Nike is now contractually obligated to terminate its business with any supplier that refuses to let WRC investigators in. This outcome reaffirms and strengthens the ability of universities to hold apparel brands that use their logos accountable to internationally recognized labor standards, including the right to organize. It ensures that the WRC will be able to continue its vital work of exposing labor rights abuses in the supply chains of major U.S. brands and aiding workers and unions as they fight to end those abuses and advance their rights.
And, at a time of burgeoning corporate power, with leaders and institutions that are supposed to protect the public interest increasingly prone to defer to corporate priorities, USAS's campaign shows that corporations like Nike remain vulnerable to well-executed corporate campaigns, fueled by passionate activism. The Nike victory will pay dividends for years to come and it demonstrates that the student-worker alliance forged at USAS's inception in the late 1990s is as strong as ever.
Kenneth Quinnell
Thu, 09/28/2017 – 10:27