Senior Power: On Trumpcare II, Kentucky Activist, Breast Cancer Survivor Echoes Joe Hill: 'Don't Mourn, Organize!'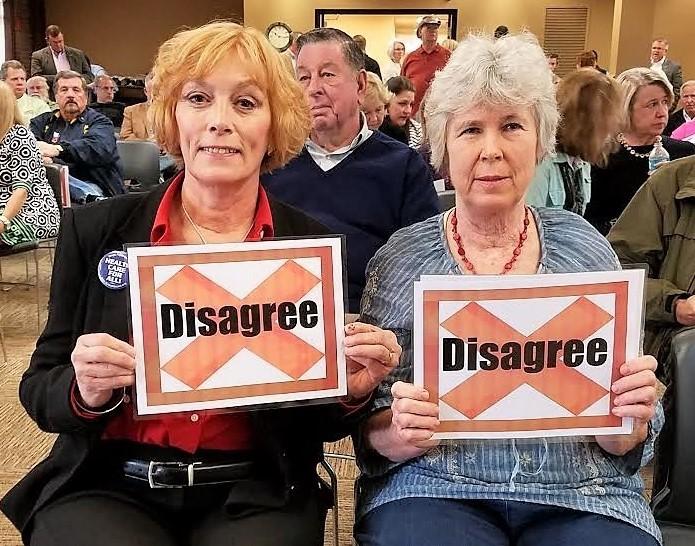 As expected, Leslie McColgin's Tea Party-tilting Republican congressman voted for Trumpcare II.
James Comer of Tompkinsville, Kentucky, also was all in for Trumpcare I. Both incarnations would gut the Affordable Care Act.
McColgin is a 62-year-old, never-say-die Democratic activist from rural Graves County, which is tobacco and Trump country. She didn't vote for Comer or Donald Trump.
Since the election, she's been bird-dogging Comer, a Tompkinsville freshman, showing up to pose questions at his town halls in the westerly reaches of the 35-county 1st Congressional District. The territory sprawls from the Mississippi River close to 300 miles eastward to south-central Kentucky, Comer's home turf.
A speech-language pathologist, McColgin went to town halls in Paducah and Bardwell, the former in March via TV hookup from Washington, where Comer was set to vote for Trumpcare I. President Trump and House Speaker Paul Ryan pulled the bill because it lacked sufficient votes to pass.
McColgin, a volunteer in the Barack Obama and Hillary Clinton campaigns, spoke up for the Affordable Care Act, President Obama's legacy legislation.
Also in March, McColgin organized a Paducah meeting with Martie Wiles, Comer's field representative. The resident of Graves County brought along three families who "spent over an hour in a private meeting to describe the importance of Medicaid for their children with disabilities, and they requested that Comer not support the changes to Medicaid funding that will cap federal reimbursements and reduce services."
Afterward, McColgin contacted WPSD-TV, Paducah's NBC affiliate, which featured her and one of the children, as well as an adult with disabilities who lives in her home under the Medicaid Adult Foster Care program.
McColgin said she wanted to "raise awareness that Medicaid is more than just a program for low-income health care; it is vital for individuals with disabilities to receive essential services.
"Comer had to respond to that news story when it aired, and since then has been emphasizing falsely that individuals with disabilities will not see any reduction in services due to this bill if it becomes law."  
McColgin's support for the ACA is personal as well as political. She's a breast cancer survivor who says quality, affordable health care is a human right, not a privilege.
McColgin is sorry she can't make the next town hall, which is set for Wednesday in Benton. She'll be in Frankfort, Kentucky's capital. Even so, she's busy rounding up a crowd.
"Focus on making the House Republicans feel pain for their vote every way you can," McColgin challenged. "Keep calling them and writing and faxing letters and tweeting. Hopefully show up at the town halls if you can. This will signal the Senate they better not go down this road.
"Then get to work on the Senate side of this. But don't let up on the House!"
She's also emailing suggested questions that don't pull punches:
You said children with disabilities would not lose services.  This bill not only will reduce Medicaid services by 25%, it takes away the ability of public schools to bill Medicaid for medically necessary services. Sure, schools will still have to provide services, but with fewer dollars. That means things like physical therapy will be cut to levels as to be inadequate (and, of course, Neal Gorsuch is fine with that). You lied.

You said Republicans needed to take their time and craft better solutions for people in the 50 to 65 age range. This bill is the same as the one you said did not do a good enough job. You lied.

You said there should not be rushed deadlines for a health care bill, yet this bill was rushed to the floor as soon as they had some fig leaf to pretend to cover pre-existing conditions without even having the [Congressional Budget Office] score it, so you have no idea of its effects or even cost.  You lied.
McColgin is undaunted by the fact that Comer represents arguably the most conservative territory in Kentucky. She's one of a small but vocal group of liberals from westernmost Kentucky and southernmost Illinois, the latter Trump-leaning, too.
While the Land of Lincoln went for Clinton, the president collected 62.5% of Kentucky ballots and only lost two of Kentucky's 120 counties—Jefferson (Louisville) and Fayette (Lexington). Graves gave Trump 76.4% of its vote.
Trump and Comer, who defeated an underfunded and largely unknown Democrat who nonetheless got McColgin's vote, rolled in every 1st District county on the way to their blowout wins in the state.
McColgin, who is on the Graves County Democratic Executive Committee, has adopted labor hero and martyr Joe Hill's immortal admonition, "Don't mourn, organize!"
She started Four Rivers Indivisible, a western Kentucky-southern Illinois branch of the national organization. The local group is named for the Mississippi, Ohio, Cumberland and Tennessee rivers, all of which converge within 40 miles or so from where she lives.
In an email to the group, she entreated that protesting Trumpcare II to lawmakers "calls for more than a postcard. Letters, letters to the editor, phone calls and fax, tweet @KYComer (or your rep) and then start on our senators." She added, "I'm going to start working on learning how to make those Twitter memes."  
The weather—cold and rainy—matched McColgin's mood Thursday when Trumpcare II—officially the American Health Care Act—passed the GOP-majority House 217-213 on a straight-party line vote. Twenty Republicans voted no, as did 193 Democrats. No Democrat supported the measure, which Democrats say is worse than Trumpcare I.
"There is video footage running on MSNBC tonight that includes Rep. Comer with a group that went to the Rose Garden today to celebrate the passage of the AHCA through the House," she disgustedly emailed her group Thursday night.
"Never before have members of Congress celebrated the passage of a bill through just one chamber. John Heilemann on MSNBC's Lawrence O'Donnell show warned that it put him in mind of [President George W.] Bush's 'Mission Accomplished' premature celebration."
Even Republicans concede that Trumpcare II faces an uncertain future in the Senate, with its narrower GOP majority. Democrats hope, and Republicans fear, that the bill—whose muscular foes include the American Medical Association, American Nurses Association, American Hospital Association and the American Association of Retired Persons—could result in big GOP losses in the 2018 midterm elections.
"So I hope Heilemann is right and they pay for this pyrrhic victory and Democrats run ads in 2018 showing [the Republicans']…smiling and laughing faces as they celebrate ripping health care away from millions to give tax cuts to the wealthy," added McColgin. "All I know is that looking at that video footage makes me sick to my stomach."
Presumably Comer wants to make his Benton stop part of a district victory lap. But a number of local Democrats and union members are expected to attend and toss anything but softball questions to the congressman on his Trumpcare II vote and other issues. Comer is fiercely anti-labor.
Anyway, like a lot of politicians, Comer likes to tell the home folks he's an independent sort who doesn't automatically toe to the party line.
But he's one of Trump's most loyal lawmakers. He rode on Air Force One with the president to a Louisville rally at which he touted Trumpcare I. Comer's website brags about the trip and has a photo of the congressman and Trump on the presidential jet.
Comer has voted the Trump way on bills 100% of the time, according to the FiveThirtyEight website "Tracking Congress in the Age of Trump: An updating tally of how often every member of the House and the Senate votes with or against the president."
This guest post from Berry Craig originally appeared at Kentucky State AFL-CIO.
Kenneth Quinnell
Mon, 05/08/2017 – 12:05