Professionals Win Together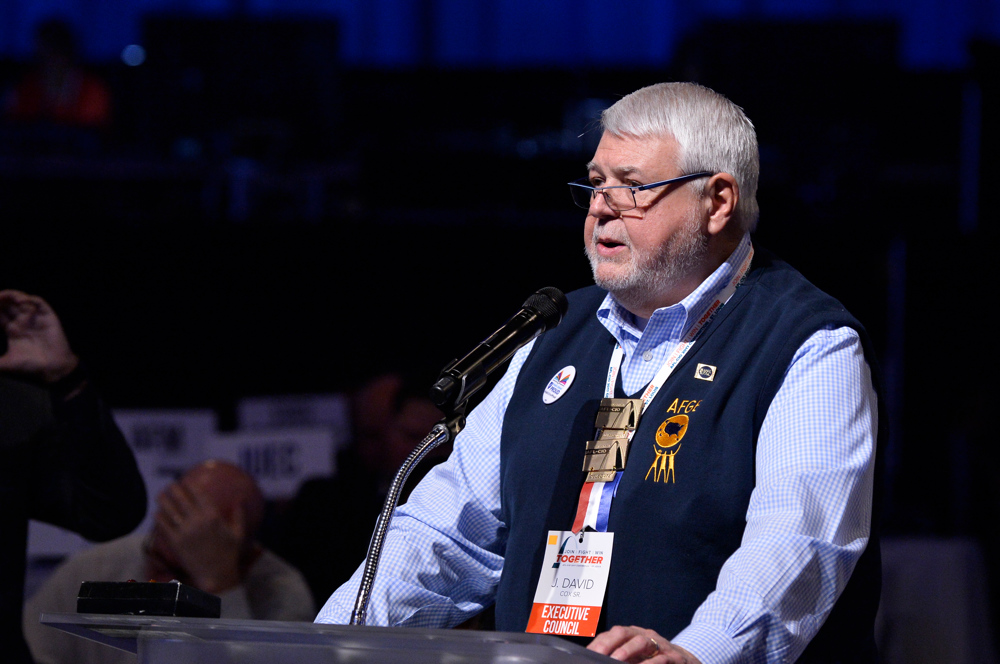 The delegates to the AFL-CIO Convention adopted Resolution 36, Celebrating DPE: 40 Years of Growing Professional Union Membership. The resolution recognized the 40th anniversary of the Department for Professional Employees, AFL-CIO (DPE) — the AFL-CIO trade department composed of 23 unions representing employees in professional and technical occupations — and its success increasing professional union membership.
The introduction of the resolution reads:
"Over the course of the last 40 years, DPE and its affiliates have helped grow union membership by organizing professionals — now 42 percent of the labor movement."
In the last 40 years, there's been over a 20 point jump in the number of professional union members. When the trade department was being established professionals were less than 18 percent of union members, today professionals are 42 percent of the labor movement.
"When DPE was being created many were skeptical about whether professionals would be drawn to unions, but the skeptics were wrong," said DPE President Paul E. Almeida.
Organizing victories that have helped fuel the growth of professional union membership within DPE affiliate unions and the entire labor movement have happened with DPE support. The American Federation of Teachers (AFT), a union of professionals working in education, healthcare, and public service, has seen its membership grow from 450,000 to 1.7 million in the last 40 years. The American Federation of Government Employees (AFGE) representing employees in the federal and Washington, D.C. government has seen a surge in professionals joining their union as well.
"Professionals should be part of nearly every union's organizing strategy because I guarantee you they are interested in union membership and they already make up a growing share of union membership," said AFGE President J. David Cox.
It doesn't seem like professionals will stop joining unions any time soon, in fact, the number of professionals joining unions could soon increase. A DPE commissioned survey conducted last fall by Hart Research Associates found that a majority (56%) of non-union professionals would support joining a union at their current job. This combined with recent organizing successes among digital journalists, graduate employees, doctors, and non-profit employees reveals that professionals will likely be the face of the labor movement of the future.
"The results of the DPE survey of non-union professionals conducted last fall reinforce what my union has been seeing in its organizing campaigns: professionals very much want to join unions," said Cox.
As the coalition of unions that organize and represent professionals, DPE supports its affiliate unions in their efforts to organize and negotiate collectively. DPE has been able to identify and understand what professionals want from unions through its survey of non-union professionals and program series on the future of the professional workforce. Through practical, action-oriented resources, DPE is able to disseminate this information and help affiliates implement its findings about professionals. A few examples of these resources include DPE's organizing guides Growing Your Union: Engaging Professionals Through New Hire Orientation and Extend the Invitation: A 10 Step Approach to Internal Organizing.
"In DPE's 40 year history, it has proven tremendous assistance to affiliates in providing research on what works in organizing professionals and helping us all share our best practices and work together," said Cox.
"Working with all of its affiliates, federal government employees, teachers, building trades, performing arts, engineers, you name it, they can pull people together into conversation and get leaders to understand one another's issues and how those issues are relevant to everything that they're doing," said International Federation of Professional and Technical Engineers (IFPTE) President Greg Junemann of DPE's work.
A core DPE principle is that by working together we can build a strong, dynamic labor movement. To make this a reality, DPE provides ways for affiliate unions to collaborate and share experiences. By facilitating collaboration, DPE has helped affiliates share expertise, technology, ideas, and resources, which has resulted in better contract wins and more organized professionals. DPE also guides coordination on public policy and advocacy issues of mutual concern.
"DPE's advocacy on issues like arts funding, copyright, visa reform, and international trade has moved us forward in ways we never could have achieved alone," said Executive Vice President of SAG-AFTRA Rebecca Damon. "SAG-AFTRA is stronger today because DPE provides a collaborative space for us to work with and learn from a diverse array of professionals, including teachers, lawyers, doctors, utility professionals, stage directors, engineers, sales professionals, and many others."
Professional and technical jobs are the careers and organizing opportunities of the future. As employment in other sectors has declined or stagnated, employment in professional and technical occupations continues to grow. Over 80 percent of the new jobs created in the last 15 years were in professional and technical occupations, and in the last 45 years professionals have grown from a quarter of the workforce to 38 percent.
The resolution's closing statement could not be more true:
"While professionals were not the face of the labor movement of the past, it is clear that the future is professional."
Jackie Tortora
Fri, 10/27/2017 – 08:02