Más allá de las fronteras la gente trabajadora unida es más fuerte (On May Day, Working People Across Borders Are United to Build Power)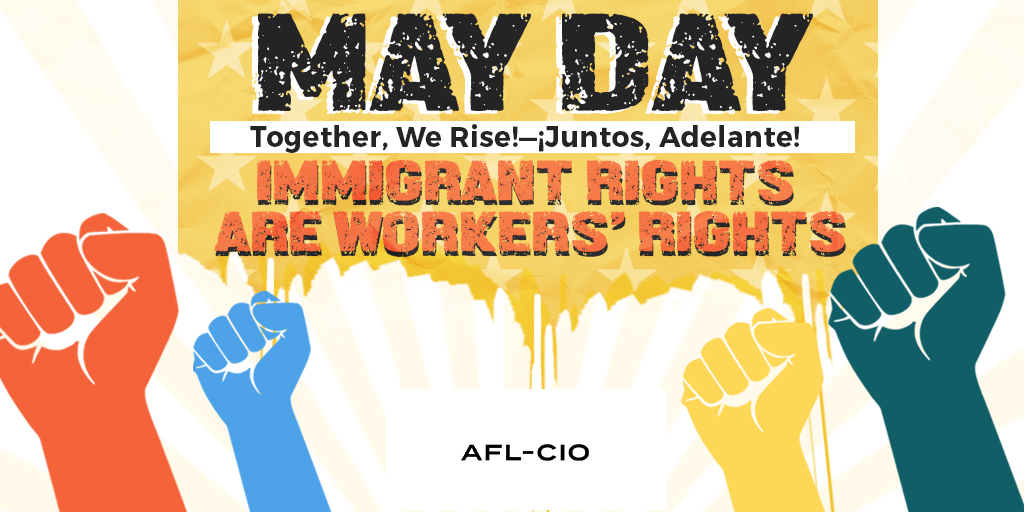 Throughout North America and globally, May 1 is a day to remember and respect workers' rights as human rights. As working people take to the streets in communities around the world, a quieter but equally important movement of workers on both sides of the United States–Mexico border has been growing.
Whatever language we speak and wherever we call home, working people are building power, supporting labor rights and fighting corruption—and we're doing it together.
Our agenda is simple. We oppose efforts to divide and disempower working people, and we oppose border walls and xenophobia anywhere and everywhere. We want trade laws that benefit working people, not corporations. And we want economic rules that raise wages, broaden opportunity and hold corporations accountable.
Nearly 20 years ago, many independent and democratic Mexican unions began an alliance with the AFL-CIO.
We've developed a good working relationship. We've engaged in important dialogue and identified shared priorities. Now we are ready to take our solidarity to the next level, turning words into deeds and plans into action.  
You see, we believe no fundamental difference exists between us. We share common values rooted in social justice and a common vision of the challenges before us.
The corporate elite in the United States and Mexico have been running roughshod over working people for too long. Corporate-written trade and immigration policies have hurt workers on both sides of the border.  We each have experienced the devastation caused by economic rules written by and for the superrich.
Those of us in the United States can see how unfair economic policies have destroyed Mexico's small farms and pushed many Mexicans to make the perilous trek north or settle in dangerous cities. Many in Mexico are worried about their own families, some of whom might be immigrants in the United States today. Workers in the United States share their concern, especially as anti-immigrant sentiment has become disturbingly mainstream.
The truth is more and more politicians are exploiting the insecurity and pain caused by corporate economic rules for political gain by stoking hatred and scapegoating Mexicans and other Latin American immigrants.
We will not be divided like this. Workers north and south of the border find the idea of a border wall to be offensive and stand against the criminalization of immigrant workers. We need real immigration reform that keeps families together, raises labor standards and gives a voice to all workers.
Instead of erecting walls, American and Mexican leaders should focus on rewriting the economic rules so working people can get ahead and have a voice in the workplace. One of our top priorities is to transform trade deals like the North American Free Trade Agreement into a tool for raising wages and strengthening communities in both countries.
We're outraged by the kidnapping and murder of the 43 students from the Ayotzinapa Rural Teachers' College, as well as too many other atrocities to list.
America's unions are democratic in nature and independent of both business and government, but that's mostly not true in Mexico. A key step in ending violence and impunity in Mexico and raising wages and standards on both sides of the border is to protect union rights and the freedom of association in Mexico.
We're united. We're resolute. We are ready to win dignity and justice for all workers.
___________
En toda Norteamérica y alrededor del mundo, el Primero de Mayo es una fecha para recordar y respetar tanto los derechos de los trabajadores como los derechos humanos. Mientras la clase obrera sale a marchar en sus diferentes comunidades, surge un movimiento laboral – más sereno, pero igualmente importante para los trabajadores – que continúa creciendo en ambos lados de la frontera entre México y Estados Unidos. 
No importa el idioma que hablemos, ni dónde sea nuestro hogar o nuestro lugar de origen, los trabajadores siguen adquiriendo más poder, por medio del apoyo a los derechos laborales y una constante lucha en contra de la corrupción. Lo mejor es que estamos haciendo todo esto juntos.
Nuestra agenda es simple. Nos oponemos a los esfuerzos para dividir y quitarle poder a los trabajadores. Nos oponemos a los muros fronterizos y a la xenofobia en cualquier lugar y en todas partes. Queremos leyes comerciales que beneficien a los trabajadores, no a las corporaciones. Y queremos reglas económicas que aumenten los salarios, amplíen las oportunidades y responsabilicen a las corporaciones.
Ya han pasado casi 20 años desde que muchos sindicatos mexicanos libres y democráticos iniciaron una alianza con la mayor federación de sindicatos de trabajadores de Estados Unidos, la AFL-CIO.
Hemos desarrollado una buena relación de trabajo. Hemos participado en un diálogo importante e identificado prioridades compartidas. Ahora estamos listos para llevar nuestra solidaridad al siguiente nivel, convirtiendo palabras en hechos y planes en acción.
Creemos que no existe ninguna diferencia fundamental entre nosotros. Compartimos valores comunes basados en la justicia social, y una visión común de los desafíos que tenemos que enfrentar.
La élite corporativa en Estados Unidos y en México ha estado despreciando a los trabajadores durante demasiado tiempo. Las políticas comerciales y de inmigración que han sido escritas por las corporaciones han dañado a los trabajadores de ambos lados de la frontera. Cada uno de nosotros ha experimentado la devastación causada por las reglas económicas escritas por y para los superricos.
Nosotros que vivimos en Estados Unidos podemos ver como las políticas económicas injustas han destruido las pequeñas granjas de México y han empujado a muchos mexicanos a emprender el peligroso viaje rumbo al norte o a establecerse en ciudades peligrosas. Muchos mexicanos están preocupados por sus propias familias; incluso muchas de ellas podrían ya vivir como inmigrantes en Estados Unidos. Los trabajadores en Estados Unidos comparten esta preocupación, especialmente porque el sentimiento anti-inmigrante se ha vuelto inquietantemente dominante.
La verdad es que más y más políticos están explotando la inseguridad y el dolor causados por las reglas económicas impuestas por las corporaciones. Su propósito es el de obtener ganancias políticas alentando el odio y utilizando como chivos expiatorios a mexicanos y a otros inmigrantes latinoamericanos.
No nos podrán dividir. Los trabajadores en ambos lados de la frontera encuentran ofensiva la idea de un muro fronterizo, y se oponen a la criminalización de los trabajadores inmigrantes. Necesitamos una reforma migratoria real que mantenga a las familias unidas, eleve las normas laborales y dé voz a todos los trabajadores.
En lugar de erigir muros, los líderes de nuestros países deben centrarse en reescribir las reglas económicas para que la gente trabajadora pueda salir adelante y tener una voz en su lugar de trabajo. Una de nuestras principales prioridades es transformar acuerdos comerciales como el Tratado de Libre Comercio de América del Norte en una herramienta para aumentar los salarios y fortalecer las comunidades en ambos países.
Estamos indignados por el secuestro y el asesinato de los 43 estudiantes de la Escuela Normal Rural de Ayotzinapa, así como por otras innumerables atrocidades.
Los sindicatos de Estados Unidos son de naturaleza democrática e independiente tanto de los que representan a trabajadores del sector comercial como funcionarios públicos. Pero esto no es particularmente cierto en México. Un paso clave para poner fin a la violencia y la impunidad en México, y elevar los salarios y las normas laborales en ambos lados de la frontera, es proteger los derechos sindicales y la libertad de asociación en México.
Estamos unidos. Mantendremos nuestra firmeza. Estamos dispuestos a ganar dignidad y justicia para todos los trabajadores.
Jackie Tortora
Mon, 05/01/2017 – 10:32