New President for the New Mexico Federation of Labor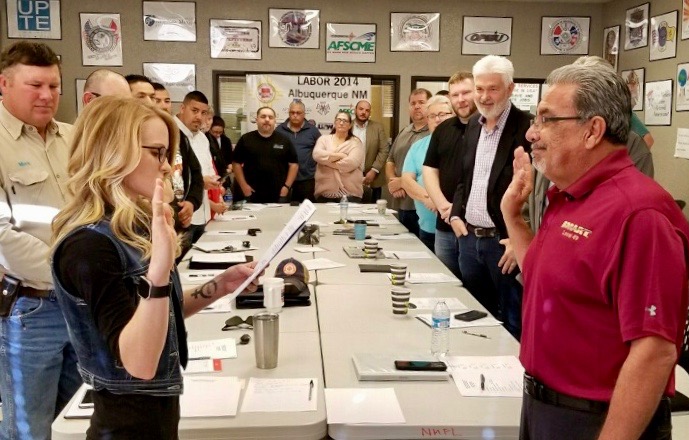 On March 20, the New Mexico Federation of Labor Executive Board unanimously appointed Vince Alvarado as its new president. Alvarado is the business manager and financial secretary for International Association of Sheet Metal, Air, Rail and Transportation Workers (SMART) Local 49, a position he has held since 2010. He is also a member of the Board of Trustees for the SMART Local 49 Health Plan and Joint Apprenticeship and Training Council. Alvarado is a third-generation sheet metal worker originally from El Paso, Texas, who served in various leadership roles on the job and with his union for more than two decades. He is currently the only state federation leader in the country who comes from SMART.
New Mexico Federation of Labor Secretary-Treasurer Ashley Long (IAM) said New Mexico labor leaders were excited to support Alvarado in his new role: "The energy behind our Executive Board's decision to appoint Vince as our new president was so enthusiastic and positive. There is a strong sense of unity that is growing and expanding across the New Mexico labor movement right now, and Vince is the exact leader we need. Together, we will keep up the momentum to grow a stronger movement for New Mexico's working families."
New Mexico has emerged as an increasingly important state in the national fight to protect workers' rights. As a team, New Mexico labor leaders, including Alvarado, mobilized working people and their communities to defeat "right to work" legislation in the state Legislature for the past four sessions. They continue to fight a right-wing funded push across the state to pass right to work on the county level. New Mexico is also a key state in the upcoming 2018 elections, where union leaders and activists are organizing to elect a pro-worker governor and solidify pro-worker majorities in their Legislature.
Long is confident that she and Alvarado can achieve those goals while continuing to unite and grow the New Mexico labor movement. "Vince is an absolute professional. He's level-headed, thoughtful and experienced," said Long. "We are a well-balanced, diverse leadership team that will work with our Executive Board to keep labor in New Mexico moving forward in a positive way."
Alvarado said he also felt positive about the state labor movement's potential for growth: "The New Mexico labor movement has become more and more united ever since we joined together to defeat right to work four sessions ago, when we didn't have the governor or the House on our side. Our movement has been doing well, but there is always room for improvement. There was a lot of good energy when our Executive Board appointed me to lead the federation, and there is a lot of potential to keep making our state better for working people."
Tim Schlittner
Thu, 03/22/2018 – 11:20