Local Union Leaders in the Midwest Strategize to Win in 2018 and Beyond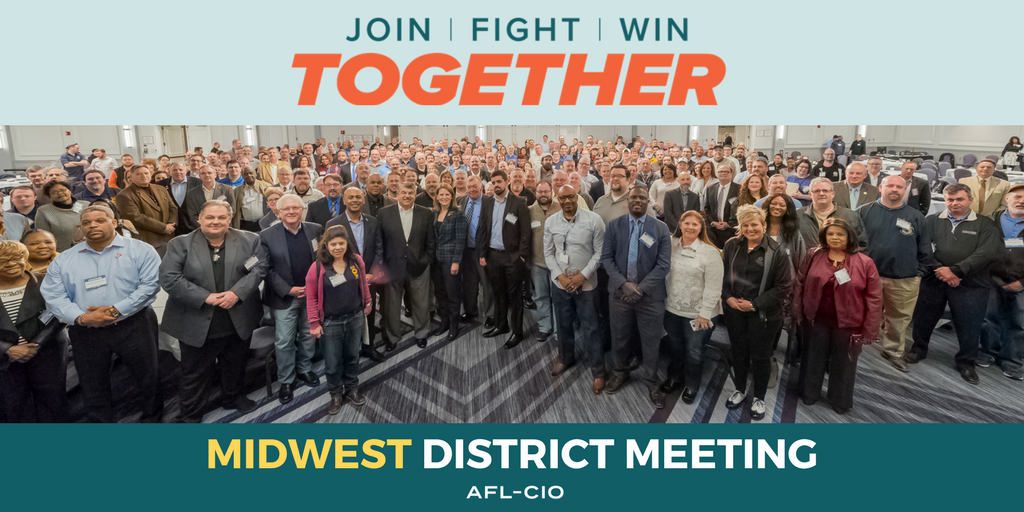 "We are the only ones who can deliver the massive economic and social change working people are hungry for," said AFL-CIO President Richard Trumka (UMWA) to more than 300 union leaders gathered in Chicago this week. Local union leaders from state federations, labor councils and affiliate unions in Illinois, Indiana, Iowa, Kansas, Minnesota, Missouri, Nebraska, North Dakota and South Dakota joined together for the AFL-CIO Midwest District meeting to spend the day building a strategy to empower working people for victories in 2018 and beyond.
"When more workers realize their own value and power, that's when you'll know the labor moment is on the rise. That moment is close. I feel it in every union hall I visit and every picket line I stand on." @RichardTrumka #1u pic.twitter.com/iQfeNcYnCs

— AFL-CIO (@AFLCIO) March 13, 2018
President Trumka reflected on the latest successes in the Midwest and the importance of building on that momentum. Recent victories include:
When anti-worker legislators passed "right to work" in Missouri, working people pounded the pavement, collecting more than three times the signatures necessary to put that law on the ballot this fall, when they plan to defeat it.

Hotel workers secured a major victory when the Chicago City Council passed the "Hands Off, Pants On" ordinance, thanks to a massive campaign by the Chicago Federation of Labor and UNITE HERE Local 1. The legislation mandates that housekeepers be given panic buttons so they can alert hotel security when they feel threatened and prohibits hotel employers from retaliating against a hotel worker for reporting sexual harassment or assault by a guest.

South Dakota is investing in young leaders, like the newly elected president of the Sioux Falls Central Labor Council, Kooper Caraway (AFSCME). At 27 years old, Caraway is the youngest elected AFL-CIO president in the history of South Dakota and one of the youngest labor council presidents in the country.

In Minnesota, labor led the charge to raise the wage in Minneapolis and secure paid sick leave in St. Paul.

When anti-labor politicians passed sweeping legislation requiring public-sector unions to hold recertification elections before negotiating new contracts, unions dug deep and focused on internal organizing, recertifying more than 93% of Iowa's public-sector bargaining units.
"The test of 2018 and beyond will be to build on these successes. Each election, each organizing drive, each legislative battle will showcase our growing clout," Trumka said. Two panels at the Midwest District meeting dove further into the achievements and challenges we face in the states and featured state federation presidents from Illinois, Indiana, Iowa, Kansas, Minnesota, Missouri, Nebraska and South Dakota. They discussed the importance of listening to union members and engaging them on issues and the value of solidarity across the labor movement. AFL-CIO Vice President Tefere Gebre (UFCW) echoed their sentiment when he said: "We're here to say if you mess with one of us, you have to deal with all of us."
Breakout sessions gave participants the tools they need to build a stronger labor movement in the Midwest. Sessions focused on internal organizing, using issues to engage our members and allies, building a program to elect union members to political office, and using data and technology to break new ground in politics and organizing.
Participants left feeling energized and ready to increase worker power. Michael Matejka, director of government affairs for the Great Plains Laborers' District Council, said: "Too often we can get stuck in our own world and our own issues. Meetings like this are critical to understanding the challenges and opportunities that we have as a labor movement."
This is the fourth district meeting that's taken place in 2018, with two more meetings to be held in Las Vegas and New Orleans.
Kenneth Quinnell
Thu, 03/15/2018 – 13:22