JetBlue In-Flight Crew Members Overwhelmingly Vote to Join TWU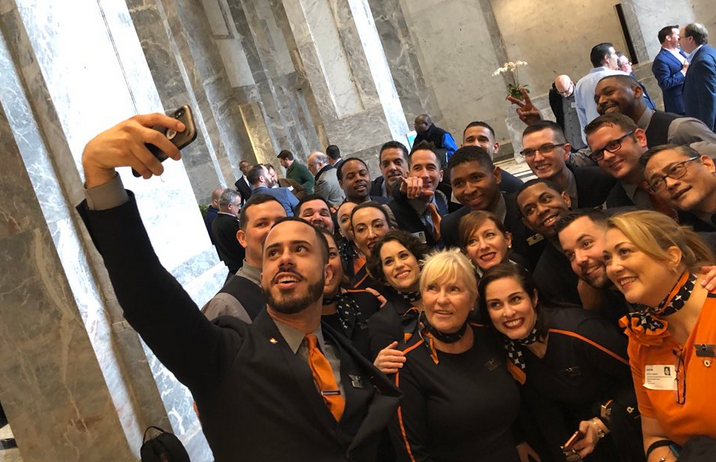 In-flight crew members at JetBlue overwhelmingly voted to join the Transport Workers (TWU). With more than 86% of eligible employees participating in the vote, more than two-thirds voted in favor of joining TWU.
TWU President John Samuelsen said:
This historic victory is yet another example of the tide turning in America as workers continue to lock arms and fight back to defend their livelihoods. The TWU intends to immediately commence contract bargaining with JetBlue. It is our sincerest wish that the company comes to the table and bargains a fair and just contract with the workers they employ….If JetBlue refuses to bargain in good faith, this union is prepared to engage in a fightback campaign that will continue until a contract is secured and the in-flight crew members are protected.
JetBlue said it respects the outcome of the election. Once the National Mediation Board authorizes TWU as the representative for the in-flight crew members, contract negotiations will begin.
AFL-CIO President Richard Trumka applauded the victory:
New York State AFL-CIO President Mario Cilento said:
On behalf of the 2.5 million members of the New York State AFL-CIO, I congratulate the Transport Workers Union and their president, John Samuelsen, on today's overwhelming vote to unionize JetBlue flight attendants. We are a stronger movement today as we continue to fight back against those who seek to diminish organized labor. Working people understand that by standing shoulder to shoulder and speaking with one voice, we raise the standard of living and quality of life for all working men and women.
Larry I. Willis, president of the AFL-CIO Transportation Trades Department, said:
At a time when our economy favors the rich and powerful, today's victory by JetBlue's in-flight crew members to join the Transport Workers Union demonstrates the power working people have when they come together. JetBlue's 5,000 in-flight crew members want nothing more than a share in the profits they make possible, a say in workplace policies and procedures, and a seat at the table. Having a powerful union voice evens the playing field and ensures these hardworking, dedicated employees receive the dignity and respect they deserve. I congratulate JetBlue's in-flight crew members on their hard-earned victory and welcome them to the transportation labor family.
Kenneth Quinnell
Wed, 04/18/2018 – 10:14
Please follow and like us: