Inslee Signs Law 'Banning the Box' in Washington State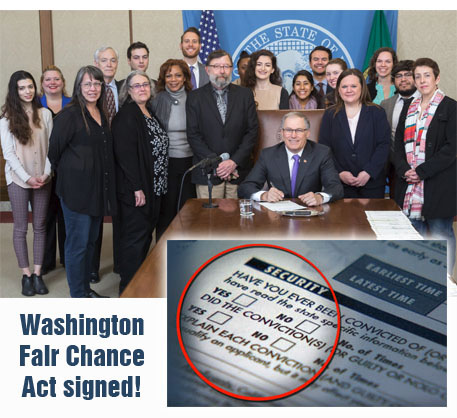 Washington state Gov. Jay Inslee (D) on Tuesday signed into law the Fair Chance Act (H.B. 1298), sponsored by state Rep. Lillian Ortiz-Self (D), extending "ban the box" job-seeker protections to cover the state's public and private employers.
Washington becomes the 11th state (and the first in 2018) to require both public- and private-sector employers to delay background checks and inquiries about job applicants' conviction records until the individual has first had an opportunity to present his or her qualifications for the job.
More than one in five adults in Washington state—disproportionately people of color—have a conviction or arrest record that can show up on a routine criminal background check for employment. The Fair Chance Act will help ensure that these 1.2 million people are judged by their qualifications and work experience and not reflexively rejected by employers at the start of the hiring process.
Fair-chance reforms allow people with records to get their foot in the door and have been shown to increase the number of people with records interviewed and hired. H.B. 1298 delays the criminal background check until the applicant meets the basic criteria for the job and precludes employers from automatically or categorically excluding individuals with a criminal record from consideration prior to an initial determination that the applicant is otherwise qualified for the position.
The Washington Fair Chance Act was backed by a broad coalition of business, labor and community groups, led by the Washington Association of Criminal Defense Lawyers and the Washington Defender Association. The Washington Fair Chance Coalition has been working since 2015 to promote adoption of the law. The Washington State Labor Council also strongly backed the legislation.
"Years of policies have unfairly and disproportionately targeted communities of color—in sentencing, through the criminalization of public health epidemics, and the underfunding of public resources made available to them," said Eric González Alfaro, WSLC's legislative and policy director. "The Fair Chance Act is one of several criminal justice reform strategies we strongly supported this legislative session to help end mass incarceration in our state and instead put us on a pathway to mass employment."
Civil Survival, an advocacy organization in Washington led and staffed by directly impacted people, was actively involved in supporting the policy. According to Tarra Simmons, the organization's executive director, who recently graduated from law school and was ruled eligible to take the bar examination by the Washington Supreme Court, "As a formerly incarcerated woman and mother who struggled with finding employment upon re-entry, I am proud to be a part of the coalition effort that led to this successful outcome. We still have a lot of work to do, but this is a first step for many of us to be judged on our current qualifications instead of banned outright because of our past mistakes."
"H.B. 1298 represents a major step forward for Washington state's business community and economy, while providing hope and opportunity to all those qualified workers who have struggled to find work with a conviction record but who are ready to give back to their communities," said Maurice Emsellem, program director with the National Employment Law Project.
With the addition of Washington state, roughly one in three adults now live in a state or locality where private employers are governed by a "ban the box" law. Nationwide, 31 states and more than 150 cities and counties have adopted a ban-the-box law regulating either public or private employers.
A fair chance to work for people with records also means a better chance at success for the next generation of Washington residents, as nearly half of all U.S. children have at least one parent with a record. What's more, research demonstrates that employment of people with conviction histories can improve the economy and benefit public safety through decreased recidivism.
This post originally appeared at The Stand.
Kenneth Quinnell
Thu, 03/15/2018 – 11:42