How One AFSCME Local Is Helping Florida Dry Out and Rebuild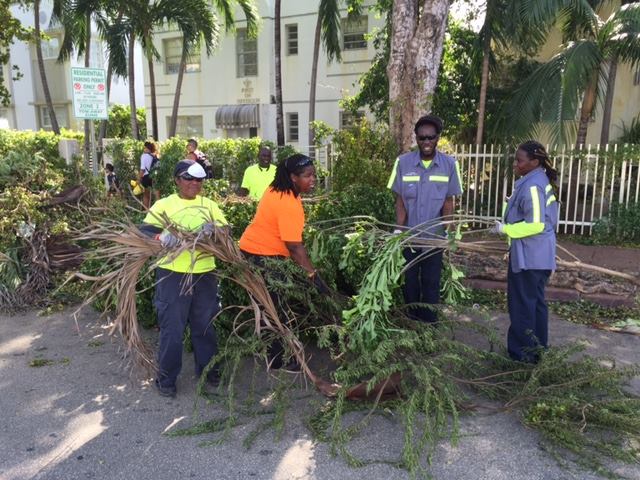 Most times, you can find longtime AFSCME member Bert Walthour serving the city of Miami Beach as a heavy equipment operator. He and his co-workers at Local 1554, AFSCME Florida, where he serves as vice president, make one of the world's most iconic cities function every day.
But these past few weeks have been anything but normal, not since forecasters put Florida squarely in Hurricane Irma's path.
"Life got real busy, real quick," Walthour said. "We implemented our hurricane preparation for the city as well as make sure our houses and families were getting ready."
Walthour and his crew are among the thousands of public service workers in Florida who are helping their communities recover from Irma and are putting their communities' needs ahead of their own.
Since much of South Florida, including Miami Beach, fell under one of the largest mandatory evacuation orders ever, sleep became as hard to find as water, canned goods and gasoline.
For Walthour and public employees across the state, the storm was just the start.
"Everyone has what is called a landfall team, the first folks who go out once the worst is over, even with the wind and rain still going, to get critical streets, bridges and other places passable for police, fire and recovery personnel to start doing their jobs," Walthour said.
He and his team members reported to a secure building and tried to get what rest they could as the storm struck Florida on Sunday, Sept. 10. Then, at 6 a.m. Monday, even as Irma continued to unleash heavy rain and fierce winds on South Florida, Walthour and his crew team went to work cutting up fallen trees, clearing debris, repairing and replacing signs and signals, and doing everything else necessary to allow families to return to their homes and begin rebuilding.
"We didn't leave until 4 p.m. on Tuesday," Walthour said. "We slept in our trucks when we could, and if we were so lucky we laid down a bit at our building in the public works yard after a bite of hot food.…This is when public workers really shine, when the clouds turn dark and the path forward is not clear, we are the ones who help make the rebuilding possible."
Like Walthour, AFSCME-represented public service workers are working across Florida to help their communities dry out and recover from Irma. And they're progressing at a steady pace, though there are still mountains of yard debris to clear, thousands of street lights to restore and street signs to fix, eroded beaches to refill, power to be restored and entire communities to rebuild in some of the hardest-hit parts of the state.
To these selfless sisters and brothers, we say thank you.
Kenneth Quinnell
Tue, 09/26/2017 – 13:44