Congress Can Restore Service Members' and Veterans' Rights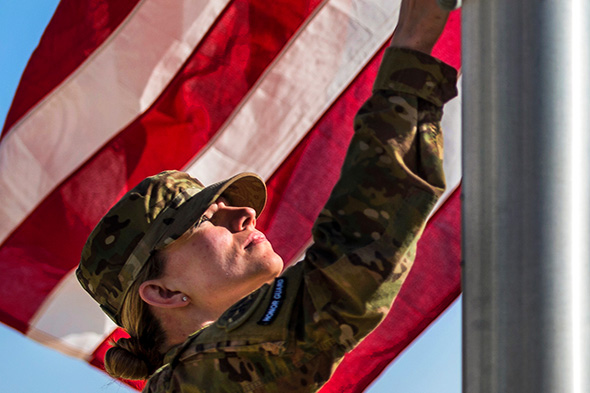 In October, in a 50-50 tie vote broken by Vice President Mike Pence, Congress passed a resolution that stripped service members and veterans of their right to band together in court when companies violate the law and harm thousands or millions of people. Congress has a chance to right that wrong this week. The Consumer Financial Protection Bureau's arbitration rule repealed by Congress would have stopped Wall Street banks, giant credit bureaus like Equifax and predatory lenders from putting fine print clauses in their contracts that strip people of their right to join together in court.
Our organizations—Student Veterans of America and the Union Veterans Council—strongly opposed this resolution, along with the American Legion, the Military Coalition and 29 military and veterans groups. We warned senators that a vote against the arbitration rule was a vote against our military and veterans. After the bill narrowly passed both houses, the American Legion and the Union Veterans Council took the extraordinary step of calling on President Donald Trump to veto this shameful resolution.
Service members do have some protection against forced arbitration under the Military Lending Act. But four of the five top areas of service member complaints to the CFPB are not covered by the MLA.
A court decision in September illustrates how lenders use forced arbitration to prevent justice for service members. Before Shane Mathis entered the U.S. Navy, he borrowed $8,600 at 18.35% from Green Cap Financial LLC, secured in part by his 2004 Jeep. After he entered the service, he wrote three times to Green Cap and its successor, Lendmark Financial Services, asking that the interest rate be reduced, as required under the Servicemembers Civil Relief Act. His request was denied. Mathis then filed a lawsuit in North Carolina, but the court dismissed the case and forced him to submit his claim to a private arbitrator hired by Lendmark. In arbitration, proceedings are often kept secret and there is virtually no right to judicial review if the arbitrator ignores the facts or the law. Moreover, people do not have the same right to discover evidence of widespread problems. For example, companies that violate the SCRA often harm not just one service member but many more.
But in Congress, the voices of service members, 423 professors and legal scholars in every state, and 370 consumer groups were drowned out by the arguments of bank lobbyists, who have too much sway over some members of Congress and were able to distort the facts and mislead other members. Some senators were genuinely confused about the rule, believing erroneously that it hurt credit unions and community banks. Lobbyists even pushed the bogus argument that a person hit with an illegal $100 bank fee—who could band together with others if allowed to pursue a class action in court—will somehow win $5,400 if he or she is forced to go it alone in arbitration. In fact, the average person forced into arbitration actually loses $7,725.
This week, however, Congress has a chance to right its wrong. The Senate is considering a package of bills that would make changes to the Dodd–Frank Wall Street Reform and Consumer Protection Act, among others. Sen. Catherine Cortez Masto (D-Nev.) has offered an amendment that would reinstate the CFPB's arbitration rule. The amendment exempts credit unions and community banks with fewer than $10 billion in assets, to make crystal clear that the rule will not harm small financial institutions and address the stated concerns of several key senators.
In October, the Senate voted against service members and veterans. With time to digest the facts and address senators' concerns, now is our chance to get it right. Our military fights to protect our rights every day—today, we need to restore theirs.
This is a guest post written by Will Hubbard, vice president of government affairs of Student Veterans of America, and Will Attig, executive director of the Union Veterans Council at the AFL-CIO. This article originally appeared at HuffPost.
Kenneth Quinnell
Tue, 12/05/2017 – 12:27