Celebrating the Accomplishments of Working People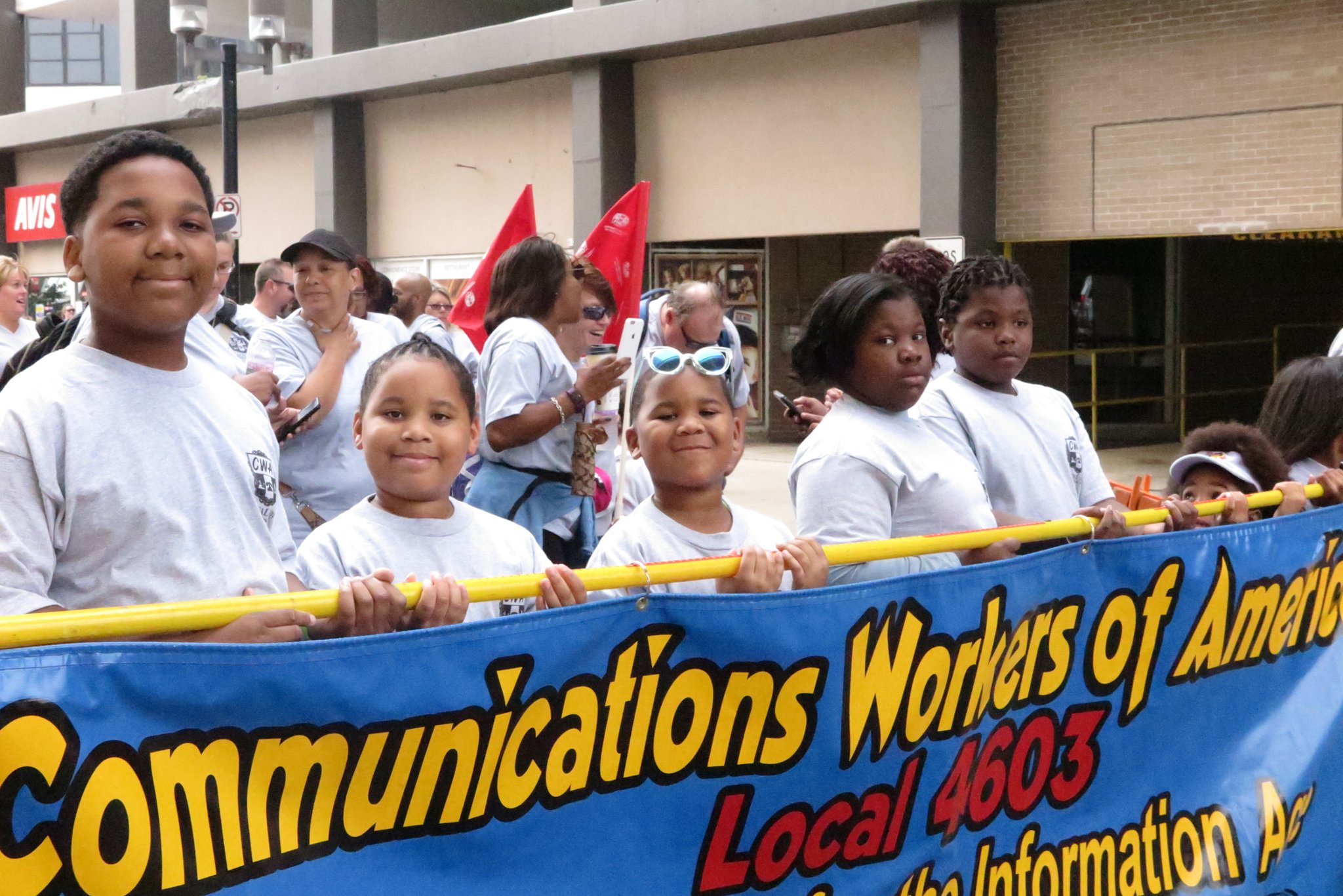 Across the country, Americans took time on Labor Day to celebrate working people and our accomplishments.
AFL-CIO President Richard Trumka discussed Labor Day's importance in an essay for Time magazine:
Labor Day is an important opportunity to recognize and honor the achievements of working people. It was meant to be a day of leisure, especially for workers and working families; it was also meant to be a day to remember the power and purpose of working people united in unions.

The tension between work and time off has always been a concern of the American labor movement. Work may be one of our core values, but it has a purpose, which is to allow us to live good lives, provide for ourselves and our families and, yes, to earn some time off to enjoy the fruits of our labor.

Today, work and time off are badly out of balance, and Labor Day is a case in point. For too many people, especially low-wage workers, this day to celebrate working people is just another workday in a relentless slog.

Time off shouldn't be impossible. Yet for far too many workers today, paid time off to recover from an illness or injury or to care for a family member or a newborn child is an out-of-reach luxury.
In the essay, Trumka discusses the AFL-CIO's new survey of working people and our access to paid time off. Read more about the results.
AFL-CIO Secretary-Treasurer Liz Shuler was in Detroit for Labor Day. She told the Detroit Free Press:
There's this sense that organized labor, with all the challenges we're facing, that people are ready to write our obituary. But working people are coming together in all sorts of ways. But people don't recognize that labor is still a relevant player in the economy and the reason they've gotten what they've gotten in the workplace is because of the efforts and vibrancy of the labor movement.
Here is some of the key media coverage of Labor Day 2017:
CNN: Trumka: Trump 'Assaulted' Regulations for Workers: "AFL-CIO President Richard Trumka reacts to President Trump's upcoming announcement on DACA and what he has done for the working class thus far into his presidency." (VIDEO)
NC Policy Watch: A Simple and Basic Right That's Still Denied to Far Too Many American Workers: "Time off from work shouldn't be impossible, but for too many of us, it is. On Labor Day, everybody in North Carolina who counts on a paycheck should have time for leisure and to recognize and honor the power and purpose of working people united in unions."
Sacramento Bee: This Labor Day, Let's Remember the Value of Work: "'A day of the people.' That's how the press described the first Labor Day celebration in New York City in 1882. The day was organized by unions to celebrate the American worker and bring to light the harsh conditions workers toiled under at the time, which included 12-hour workdays, unsafe conditions and low wages."
The Tennessean: Celebrate Labor Day, and Remember the Work Yet to Be Done: "As we observe the unofficial end-of-summer, we are also given another annual opportunity to recognize the American labor movement and all that it has accomplished for working families over the course of the last century."
Florida Today: Let's Celebrate Unions' Contributions on Labor Day: "Celebrating Labor Day honors the contributions of the labor movement. Unions exist because there was injustice on the job and workers fought back. Before the labor movement, children were working long hard hours. Exploitation was a common occurrence, and still is in many ways."
Chicago Sun-Times: What Labor Day Means to My South Side and Black Union Family: "Growing up on Chicago's South Side, I learned at an early age the power of unions to dramatically improve the opportunities of black families in America. My grandparents were janitors in Chicago, the children of sharecroppers who fled the racist violence and oppression of the South for new opportunities in the North."
The Washington Post: Celebrate Labor Day by Supporting National Paid Family Leave: "None of us should have to choose between the job we need and the family we love. That's the concept behind paid family leave. It provides a safety net for when life happens — when a baby arrives, a child falls ill, an aging parent needs extra care — and we need to be there."
Washington Post: The Media Still Gets the Working Class Wrong—But Not in the Way You Think: "This will be the first Labor Day since America rediscovered its working class—or, more accurately, one part of its working class. If there was any consensus in the aftermath of last November's election, it was that elites had lost touch with working people. Yet 10 months later, most commentators still get the working class wrong."
Statesman Journal: Workers Are the Economy, so Celebrate Working Families: "On Labor Day, we recognize and honor the achievements of America's working people. In 2017, this annual celebration comes at a critical time for our nation. Collective action is on the rise yet so are the attacks on our pay, health care, retirement security and rights on the job."
Santa Fe New Mexican: Celebrating the Freedom to Join on Labor Day: "On Labor Day, we recognize and honor the achievements of America's working people. In 2017, this annual celebration comes at a critical time for our nation. Collective action is on the rise—yet so are the attacks on our pay, health care, retirement security and rights on the job."
Independent Record: Fighting to Improve the Lives of Montana Workers: "On Labor Day, we take time to recognize the achievements and struggles of all working Americans. In 2017, this yearly celebration could not be more important. The economic system in our country is failing workers, especially young workers, the working poor and retirees who either can't find decent employment that supports a family or can't afford to retire with respect and dignity."
Kenneth Quinnell
Tue, 09/05/2017 – 11:09