AFL-CIO Honors Korean Labor Leader Han with Human Rights Award, Call for His Release From Prison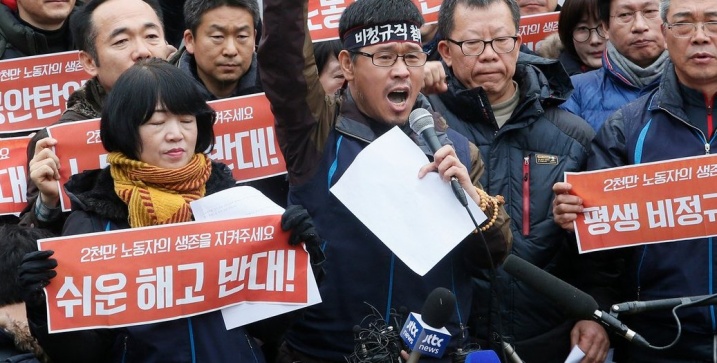 President Han Sang-gyun of the Korean Confederation of Trade Unions has spent his life fighting for the rights of workers and has paid a high price. Han has been in jail since December 2015, serving a three-year sentence for defending trade union rights and fighting back against corporate corruption and the repressive government of former President Park Geun-hye. For his perseverance in the face of anti-democratic repression, the AFL-CIO Executive Council this week honored President Han with the AFL-CIO's annual George Meany-Lane Kirkland Human Rights Award, and joined the global labor movement in calling for his release.
KCTU President Han's career as an organizer and labor leader is defined by militant action against long odds. During the years of military rule in 1980s South Korea, Han, a former student activist, helped organize a union in his auto manufacturing plant. He went on to lead that union in an occupation of the auto plant with 1,700 other workers, demanding an end to layoff and severance concessions. For that, he served his first three-year sentence in prison, but helped protect hundreds of workers' livelihoods.
In 2014, Han was elected president in the first direct vote in KCTU history, promising to organize a general strike to protest austerity economics and precarious work. Under his leadership, workers have mobilized against anti-worker labor legislation and government corruption in a series of massive peaceful demonstrations. President Park frequently responded to dissent with police brutality, mass arrests and harsh jail sentences targeted at leaders. Han—charged with inciting violence after riot police disrupted a peaceful march—eventually was forced to turn himself in to authorities.
The Korean labor movement and civil society forced the ouster of President Park, who was impeached and charged with bribery, abuse of power and other charges this year. Although South Koreans voted in a new, more pro-labor administration under President Moon Jae-in, the fight for justice is ongoing. Han and many other activists still are imprisoned, and Korean workers continue to struggle against regressive labor laws and for accountability from Korea's major corporations.
The AFL-CIO joins the global labor movement, United Nations officials and numerous human rights groups in calling for the release of Han and other activists. In awarding President Han, the AFL-CIO recognizes and honors his many personal sacrifices, as well as the bravery and perseverance of Korean workers and activists.
Worker activism is the bulwark against closing civil society space and right-wing, corporate threats to basic labor rights and democratic norms. Han and the Korean labor movement serve as an inspiration to worker movements everywhere. From the United States, the United Kingdom and the Philippines to Brazil and Egypt and everywhere workers are under attack, Korean workers have shown that collective action can create real, far-reaching change.
Tim Schlittner
Thu, 07/27/2017 – 16:48