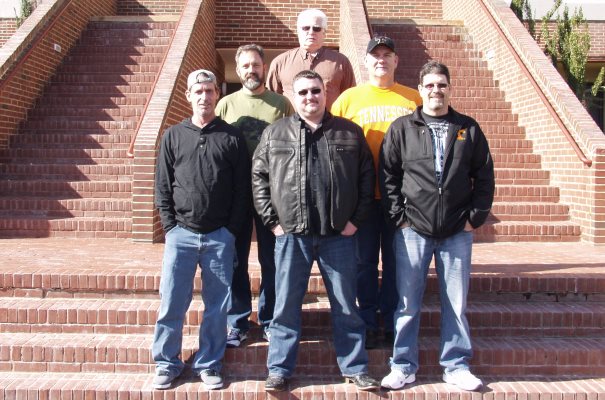 IAM Local 1441 Negotiating Committee recently completed the Negotiation Preparation Program at the Winpisinger Center in Hollywood, MD. First row from left: Committee member James Homsany, Recording Secretary Benjamin Sprouse and President Kevin Schwarz. Second row from left: Vice President Shane Long and Committee Member Jeff Heatherly. Third row: District 711 Business Representative Mike Lee.
The negotiating committee for IAM Local 1441 in Springfield, TN and District 711 staff recently completed the Negotiation Preparation for Bargaining Committees Program at the William W. Winpisinger Education and Technology Center in Hollywood, MD.
The week-long Negotiation Preparation class included training in drafting contract language, presenting proposals, analyzing the company's strengths and weakness, communications and identifying a broad array of potential tactics.
Recognizing these promise to be a difficult round of negotiations with their employer Unarco, the committee strategized to learn from the bargaining history, put better language in the contract and build solidarity in the bargaining unit.
"The committee worked very hard this week, leaving the Winpisinger Center better prepared to advance the needs of the members," said District 711 Business Representative Mike Lee. "What they learned this week will not only be beneficial at the bargaining table, but will be helpful long after negotiations are over."
Local 1441 represents workers at Unarco in Springfield, TN who build material handling racks traditionally found in warehouses and building supply stores. The current contract expires April 1.