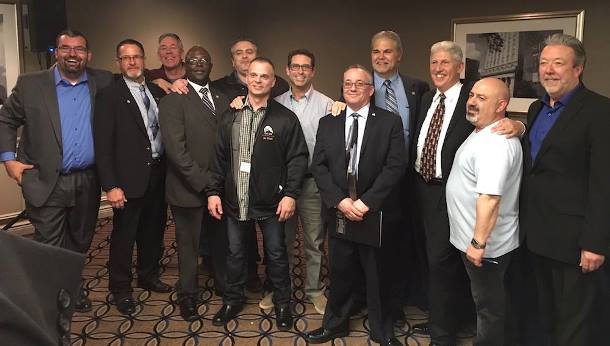 IAM and TCU negotiators after reaching a tentative agreement to avert a strike with New Jersey Transit. The deal was recently ratified by 90 percent of the IAM's membership at NJT.
After five years of negotiations and two Presidential Emergency Boards (PEBs), IAM District 19, Local 1041 members have overwhelmingly ratified a new agreement with New Jersey Transit (NJT), the nation's third-largest commuter railroad. Nearly 90 percent of members voted in favor of the deal.
The agreement provides for solid wage increases with full retroactive pay for current employees and retirees. It also keeps healthcare contributions affordable while maintaining a high level of benefits.
IAM members were the first of a 13-union coalition at NJT to ratify the contract, which was tentatively agreed to just 24 hours before workers were set to strike. The strike would have been the first work stoppage at NJT in 33 years.
READ: IAM, TCU, Rail Labor Coalition Reach Deal with New Jersey Transit