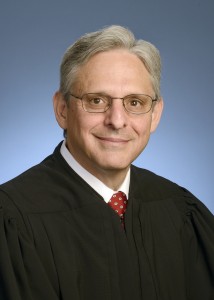 President Obama's nominee to the Supreme Court, Chief Judge Merrick Garland of the U.S. Court of Appeals for the District of Columbia, is "extraordinarily qualified" for a seat on the nation's high court, says IAM International President Bob Martinez.
Senate Republican leadership has refused to hold hearings on Garland's nomination, despite Garland's long-standing reputation as a moderate who faithfully defends the Constitution and defers to the other branches of government when appropriate.
"The IAM strongly supports President Obama's choice of Chief Judge Merrick Garland to become an Associate Justice of the United States Supreme Court, and calls on the Senate to do its job and advise and consent to the nomination of this eminently qualified jurist," Martinez said in a statement.
Garland was tapped by Obama to fill the seat of Associate Justice Antonin Scalia, who died in February. For now, the court is issuing decisions with only eight justices.
"Far too often in our history the Supreme Court has fallen short in ways that have caused substantial harm to unions and to working families, by undermining, and not defending, these laws, rules and Constitutional principles," said Martinez. "We need justices on the Court that will defer to the legitimate actions of the other two branches of the government, and defend all citizens' rights guaranteed by our Constitution."
IAM General Counsel Mark Schneider says Garland has a reputation for issuing fair rulings in cases involving organized labor. That's key, because if Garland gets promoted the Supreme Court, he may be presiding over important cases involving equal pay and right-to-work.
"With him it's what you see is what you get. He's careful, smart and very hard-working," said Schneider. "He's not going to side with an employer just because he's an employer-based kind of guy."
Watch Schneider's interview with the Machinists News Network.
Sign a petition telling Senate Republicans to do their jobs and fill the Supreme Court vacancy.