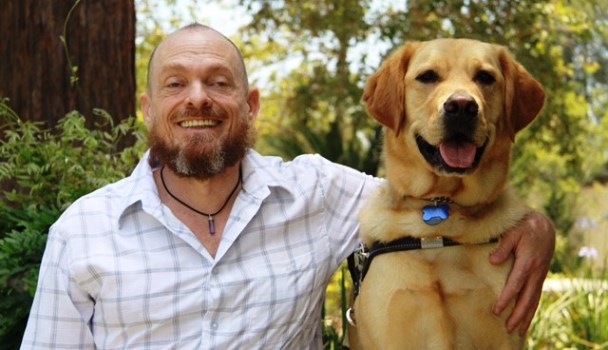 IAM member Don Wilson and his service dog Otto, who was provided by Guide Dogs of America, recently completed their training and were part of the 394th GDA graduating class.
Thanks to Guide Dogs of America (GDA), District 141 member Don Wilson has a new best friend named Otto. Wilson is getting out and enjoying some things that, for the last 12 years of his life, he wasn't sure if he would be able to do again.
The Southwest Airlines Customer Service Representative from Atlanta began losing his sight over a period of six months back in 2004 due to optic atrophy. Inflammation around the optic nerve has left Wilson legally blind.
Wilson felt he got around fairly decently using his walking cane, and never really considered getting a service dog. It wasn't until he went to the American Council of the Blind Convention and spent some time with people who had service dogs that he thought it would be something worth looking into.
After downloading an application from the GDA website, Wilson began the process of applying for a GDA service dog. He visited the Sylmar, CA facility for an assessment in the spring. Once he was accepted into the program, he was unsure of when a dog would be available. Applicants have to wait for a dog that is the perfect match to be trained and available.
It turned out to not be long of a wait as Otto would soon be ready. The team attended three intensive weeks of training at the GDA facility.
"The weeks at the training center were very intense, kind of like a boot camp," said Wilson. "It was great. We learned how to understand what the dog was doing, how to read it and to trust it."
Following three weeks of training in California, Wilson and Otto returned to Georgia for a week of training at home and work. They walked the area neighborhoods and visited Wilson's work to get Otto trained on the route, including emergency exits.
It's only been a few weeks, but both Wilson and Otto are getting adjusted to their new life together. Wilson said they make a great team and GDA did an outstanding job matching the two.
"Having Otto has given me the confidence to try new things that I didn't feel comfortable doing before, like taking an Uber, or going out at night," continued Wilson. "I am very thankful to Guide Dogs of America, Otto's sponsor Sandy Bennett and all who have made this possible."
Watch a video of Don and Otto speaking at the GDA graduation.
Learn more about Otto on his Facebook page.